markets
Asia's Newest Central Bank Chief Has a Formidable Record to Beat
Bloomberg News
Deputy governor Yang Chin-long is replacing Perng Fai-nan

Perng has put stability as first and foremost target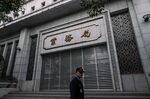 When Yang Chin-long takes the helm of Taiwan's central bank later this month, he'll have the legacy of his predecessor Perng Fai-nan as a benchmark.
Taiwan's central bank law mandates the governor with at least three tasks -- enhancing financial stability, guiding sound banking practices and maintaining price and currency stability. Meanwhile, the monetary chief should also look to help economic development, if all the above targets are being met.
Using those goals as a yardstick, outgoing governor Perng has done well in his past 20 years.
Click to Read: Taiwan Appoints Yang Chin-long as New Central Bank Governor
Here're five charts to show his record:
Stable Prices
Consumer price growth will remain moderate in 2018, with inflation running at just over 1 percent, according to the median economist forecast in a Bloomberg survey.
Currency Weakens, Slightly
Taiwan's dollar has weakened gently and steadily against its global peers since Perng became governor, keeping the export-oriented economy competitive. The authority has also reduced overt currency intervention after being named as a potential manipulator on the U.S. government's currency watch list in 2016.

Booming Reserves
It's not difficult for an export-oriented economy like Taiwan's to hoard foreign currency reserves, and it might have good reasons to do so, too, given the island's special political status and the ensuing difficulty to obtain international allies.
Taiwan's foreign currency reserves stood at $451.5 billion by end of last year, the highest level in history. While the reserves could offer a cushion during a liquidity crisis, critics accuse Perng of manipulating a weak Taiwan dollar by buying foreign assets.

Economic Output
The size of Taiwan's economy nearly doubled during Perng's tenure, but its economic influence over other economies in the world has declined, even with its role on the supply chain for Apple Inc.'s products. Still, economic development isn't the central bank's primary target.
Profitable Business
If the central bank were a company, Perng would be lauded as a profit-bringing CEO. About 10 percent of the Taiwan government's revenues come from the management of foreign exchange reserves.

— With assistance by Yinan Zhao, Argin Chang, Chinmei Sung, and Miaojung Lin
Before it's here, it's on the Bloomberg Terminal.
LEARN MORE