markets
Warnings on Correction in Asia, Hong Kong Stocks Grow Louder
By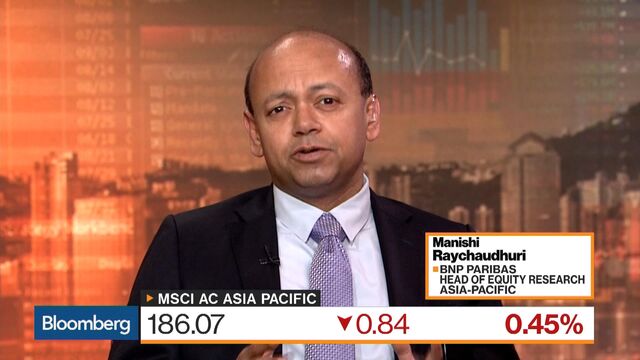 It's time to take some money off the table.
That's according to strategists across Wall Street, who say a pullback in Asian equities is imminent. Morgan Stanley is eyeing a "meaningful" dip in the Hang Seng Index within weeks, while Goldman Sachs Group Inc. says the MSCI AC Asia Pacific excluding Japan Index could drop more than 10 percent. Both gauges are enjoying one of their longest bull runs on record, entering its 717th day.
While there's been no shortage of warning signs, with most technical and valuation metrics flashing sell, investors have been reluctant to cash out. The region's resilient economic growth, rebounding corporate profits and relatively low multiples have been enough to sustain the rally, and are likely to attract dip buyers when markets do fall, the strategists say.
"Signs of overheating are emerging, but our macro and earnings cycle analysis indicates that markets remain well-supported by fundamentals," Goldman Sachs strategists including Timothy Moe wrote in a Tuesday note. "We remain strategically bullish, while acknowledging that a trading correction is possible given how long markets have rallied."

The Hang Seng Index fell as much as 0.9 percent on Wednesday before rising 0.4 percent. Asian stocks also reversed earlier losses as they extended their best January gain in six years.
"Market sentiment at such extremely elated level suggests near-term caution for traders," Hao Hong, chief strategist at Bocom International Holdings Co., wrote in a note, saying that the risk of a correction in Hong Kong and Chinese stocks is rising.
Nomura Holdings Inc.'s Wendy Liu added to the chorus, predicting that a selloff could last through the Lunar New Year holiday in mid-February, especially for last year's favorites in the Internet and smartphone sectors.
(
Updates with Nomura strategist in final paragraph.
)
Before it's here, it's on the Bloomberg Terminal.
LEARN MORE