politics
Under Pressure to Resign, U.K.'s May Says She's 'Not a Quitter'
Bloomberg News
On flight to China, May says she serves both country and party

Prime minister pledges to do more to sell government successes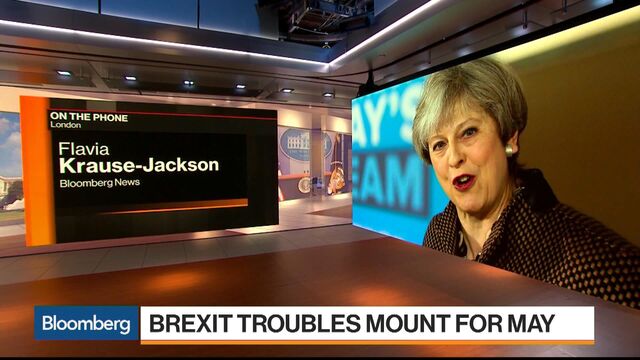 U.K. Prime Minister Theresa May landed in China with a message to rebels back home who want to oust her: she won't quit.
"First and foremost, I'm a servant of my country and my party," May told reporters on board her overnight flight to the city of Wuhan on Wednesday. "I'm not a quitter and there's a long term job to be done."

May faced sustained questioning about her leadership from reporters on board her Royal Air Force plane to China, where she's leading a 50-strong trade delegation on a three-day trip. Asked if she would fight any formal challenge to her leadership, May dismissed the idea as a "hypothetical" situation.
Having clung onto her job since leading her party to a disastrous election in June last year, May has come under mounting pressure in recent days from lawmakers in her own party. Media reports say some are privately plotting to replace her.
Brexit Deal
May said she'd focus on getting the best Brexit deal she can from the European Union, and take control of Britain's money, laws and borders away from the bloc. She also pledged to reform elderly care and the domestic housing market.
May laid out her case for her performance running Britain, saying the cabinet's Brexit committee discussed security and data issues at a meeting on Monday. She said she needs to communicate her government's successes better.
"Is there more for us to do to talk to people more generally about what we are achieving and what we are doing? Yes, there is always more for us to be able to do to talk to people about what we're achieving," May said.
May now runs a minority government, holding office thanks only to the support of a tiny band of 10 lawmakers from Northern Ireland's Democratic Unionist Party. Many Tories believe she must be replaced before the next election in 2022.
May declined to say whether she planned to lead the party into that contest.
— With assistance by Tim Ross
Before it's here, it's on the Bloomberg Terminal.
LEARN MORE