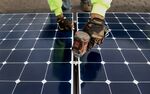 The White House is again seeking deep cuts to the Energy Department office responsible for funding clean-energy research, according to people familiar with the plans.
In its upcoming budget request to Congress, the administration will propose cutting more than 70 percent of the Office of Energy Efficiency and Renewable Energy's $2.1 billion-a-year budget.
Shaylyn Hynes, an Energy Department spokeswoman, said she would not comment "on a budget that has not been released."
"However, I will suggest that anyone who questions this Administration's commitment to an all-of-the-above energy approach simply look at our record," she said in a statement. "Last year the Energy Department awarded hundreds of millions of dollars to solar and wind energy."
The Trump administration previously targeted the division, which has financed technologies ranging from the LED light bulb to plug-in electric vehicles, for a cut of more than two-thirds. Congress has proposed rejecting those cuts and is currently operating on a stopgap funding bill that has kept funding levels unchanged.
"Cuts of this size are basically shutdown numbers," said Mike Carr, a former Obama administration Energy Department staffer who is now executive director of New Energy America. "Between imposing solar tariffs, eroding the Clean Power Plan, fighting incentives at the federal and state level, walking away from our voluntary commitments under the Paris accords, and now dismantling our support for R&D, this administration has consistently tried to undermine market certainty for clean energy."
The proposal was first reported by the Washington Post.
Before it's here, it's on the Bloomberg Terminal.
LEARN MORE