politics
Trump Issues Executive Order to Keep Open Guantanamo Bay Prison
By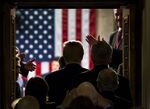 President Donald Trump issued an executive order to keep open the prison at the U.S. military's Guantanamo Bay base in Cuba, the White House announced.
Trump's predecessor, Barack Obama, had ordered the detention facility be put on a path to closure and the terrorist suspects held there tried or transferred to facilities elsewhere. But his efforts were stymied by Congress. The facility still holds 41 prisoners.
The White House posted a summary of the order on its website Tuesday just before Trump began his State of the Union address. Trump asserted that the U.S. maintains the option to detain additional enemy combatants at the facility when necessary, according to the summary of the order.
Before it's here, it's on the Bloomberg Terminal.
LEARN MORE