politics
Train Carrying GOP Lawmakers Strikes Truck, Killing Motorist
By , , and
No serious injuries reported to House, Senate members

Lawmakers heading to West Virginia for annual party retreat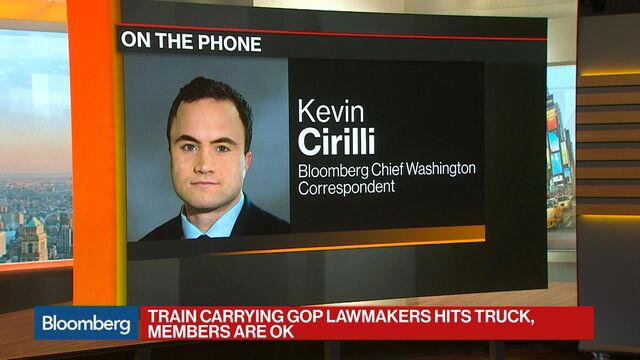 An Amtrak train carrying Republican members of Congress to a party retreat Wednesday struck a garbage truck outside Charlottesville, Virginia, killing one person on the truck.
At least one other person on the truck was badly injured but there were no serious injuries among the lawmakers on board the chartered train, according to the U.S. Department of Transportation. Amtrak said two of the train's crew members and two passengers were taken to a local hospital with minor injuries.
"We don't have a full understanding yet as to what happened but it was a train hitting a truck, going at a pretty good speed and we will have a full report," President Donald Trump told reporters at an event at the White House. "It looks like the driver of the truck was killed."
Republicans were heading to the Greenbrier resort in White Sulphur Springs, West Virginia, for their annual planning retreat, a day after party members cheered for Trump's first State of the Union address in Washington. Amtrak spokeswoman Kimberly Woods said in an email that the train "came into contact with a vehicle that was on the tracks at 11:20 a.m. in Crozet, Virginia."
The National Transportation Safety Board and Transportation Department sent personnel to the scene.
Representative Jason Lewis of Minnesota said on Fox News that he had "a little bit of a whiplash and maybe a tiny bit of a concussion," and his office said he was being taken to a hospital to be examined.
House Speaker Paul Ryan of Wisconsin was on the train and wasn't hurt, a GOP aide said, and the office of Senate Majority Leader Mitch McConnell of Kentucky said he wasn't on the train. Vice President Mike Pence planned to go to West Virginia later in the day.

Representative French Hill of Arkansas said, "It was a very sudden jolt to the train, but the train slowed down and is still on the track when it came to a stop." 
"There's a lighted crossing guard where the train crosses," Hill said. "The guardrails were down but the train hit the garbage truck." 
Representative Bill Flores of Texas said, "I thought we derailed or something because we heard a huge crash, but then we saw the wreckage on the left side of the train because the train kept going."
Flores said some lawmakers who are doctors got off the train to help people in the truck.
Representative Roger Marshall of Kansas, who is a doctor, performed CPR on the train's conductor and helped two people in the garbage truck who "are injured badly" and were put in an ambulance, a staff member said in a Tweet sent from Marshall's account.
"We are grateful for the first responders who rushed to the scene and we pray for the victims and their families," Ryan said in a tweet.
Flores said the train was being taken back to Charlottesville after it was disconnected from the locomotive in the front, and a new locomotive was brought and hooked to the back. The lawmakers planned to get on buses in Charlottesville and resume their trip, he said.
Representative Gus Bilirakis of Florida said, "It was a real hard hit. I was sitting in my seat, but if I was standing up, I would not have been able to keep my balance."
Train collisions at the 130,000 U.S. grade crossings have been among the worst rail accidents in recent years.
While grade-crossing collisions have generally been falling, there were more than 2,200 in the year ending Sept. 30, 2014, according to the Federal Railroad Administration. About 250 people die a year in such collisions, and the NTSB and the Federal Railroad Administration have long sought ways to reduce the number of crossings and to improve warning signs and equipment.
— With assistance by Ryan Beene, Alan Levin, and Todd Shields
(
Updates with Trump statement in third paragraph and Transportation Department in sixth paragraph.
)
Before it's here, it's on the Bloomberg Terminal.
LEARN MORE