Remarks
How North Korea Managed to Crash the Olympics Party
Athletic amity between North and South will be short-lived. Here's what could go wrong.
By and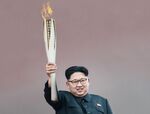 With the Winter Olympics set to kick off in the alpine resort town of Pyeongchang, South Korea has welcomed a regime that only months ago was threatening to destroy it. North Korea has crashed the party, dispatching pop diva Hyon Song Wol and a cheerleading troupe, dubbed the "army of beauties," as cultural emissaries. On Feb. 9, in a gesture designed to strike an emotional chord, a combined North-South team will march behind a Korean unity flag at the opening ceremony that will be broadcast worldwide.
Such is the surreal state of play on the Korean Peninsula, thanks to a diplomatic gambit initiated by South Korean President Moon Jae-in and embraced at the start of the year by North Korean Supreme Leader Kim Jong Un. Both sides are counting on sports diplomacy to ease the acrimony between the two nations, which have technically been at war since 1953. Moon has described the move as a "good opportunity for inter-Korean peace and reconciliation." Kim's government is also making soothing sounds. In late January, the isolated nation called for a "breakthrough for independent reunification" and "great changes to the North-South relations as early as possible."
Behind all the gauzy rhetoric are some less-exalted motives, starting with the $12.5 billion in investments South Korea has riding on a successful Olympics—and Kim's desire to keep Washington from derailing his accelerated build-out of nuclear-tipped ballistic missiles that can reach major American cities.
Kim will lose nothing by sending his athletes to the games, but he's made North Korea the center of all media narratives about the Winter Olympics. His negotiators refused even to broach the topic of denuclearization during recent talks, the first in more than two years, yet they won a concession from the U.S. and South Korea to halt joint military exercises until after the games.
The North Korean strongman has also driven a deeper wedge between Moon and Donald Trump, who have divergent takes on containing his nuclear ambitions. Nor has Kim lost his swagger: Satellite images suggest North Korea is planning an in-your-face military parade in Pyongyang on the eve of the games. If there were an Olympic event for freestyle propaganda, Kim would be crushing it. And just a week before the opening ceremony, in a display of impunity, the communist regime canceled a planned joint cultural performance at the tourist resort of Mount Kumgang, blaming South Korean media for "defaming" North Korea's position on the Olympics.
"Success will be measured in whether North and South Korea continue with talks after the event," says Udo Merkel, a lecturer at the University of Brighton in the U.K. who writes about sports diplomacy and has visited North Korea twice. "If that doesn't happen, then we will quickly know that Kim Jong Un was using international sport simply as a public-relations opportunity."
Like his father and grandfather before him, Kim is a master manipulator who fully recognizes the money and prestige South Korea has on the line. Seoul has spent $2.5 billion on Olympic facilities, including a new 35,000-seat outdoor stadium for the opening and closing ceremonies. An additional $10 billion has gone into road upgrades and the extension of a high-speed rail network connecting Seoul and the heart of the country's ski region. The games are also a can't-miss branding opportunity for Korea Inc., whose reputation has been sullied in recent years by high-profile bankruptcies, corruption convictions, and product recalls. Samsung Electronics, Korean Air, Lotte Group, and LG Electronics—all official Olympic partners—plan to strut their stuff, pitching their latest products during the games.
Moon has ample reason to want to protect all this and to be wary of the North. The Kim dynasty has a history of ruthlessly disrupting sporting events. Agents from Pyongyang bombed a Korean Airlines flight in the runup to the 1988 Summer Olympics in Seoul, killing all 115 passengers and crew. During the 2002 World Cup, which South Korea co-hosted with Japan, a naval clash started by Pyongyang left six sailors dead. The prospect of another confrontation, plus the threats of nuclear annihilation and name-calling between Kim and Trump, depressed ticket sales heading into late 2017. Since Kim came inside the tent, sales have doubled from November levels, hitting 70 percent of a 1.1 million target as of Jan. 19.
Kim has grabbed the media spotlight, but he won't be able to prevent the world, or his own people, from seeing the vast wealth gap between the two Koreas. It's a far greater gulf than the one that existed between East and West Germany when the Berlin Wall came down in 1989. More economic pain is ahead this year for the North as new United Nations sanctions on oil imports and shipping take hold.
The U.S. Department of State estimates that South Korea's military budget is 30 times as large as North Korea's in absolute terms, despite Kim spending as much as 23 percent of his nation's economic output on defense. That helps explain his obsession with building a nuclear arsenal and the missiles to deliver them: Without a credible nuclear deterrent, his regime has argued, the U.S. will steamroll into Pyongyang and oust the government—just as it did in Iraq and Libya.
Kim declared his nuclear program complete after the latest launch in November, claiming his atomic warheads could survive reentry into the Earth's atmosphere and target specific locations anywhere in the U.S. Most independent analysts are skeptical, but few doubt he's far off. Bong Youngshik, a researcher at Yonsei University's Institute for North Korean Studies in Seoul, says it will take the regime three to five years to master the key technologies needed to strike the U.S. with a nuclear weapon.
While Trump has expressed tepid support for the détente—mostly to claim credit for pressuring Kim to the table—his military advisers continue to raise the possibility of some sort of preemptive strike. "Our response to this threat remains diplomacy-led, backed up with military options available to ensure that our diplomats are understood to be speaking from a position of strength," said Defense Secretary James Mattis on Jan. 27 after meeting South Korean National Defense Minister Song Young-moo.
One option reported by the Telegraph and the Wall Street Journal is a so-called bloody nose attack targeting specific nuclear sites. But even a limited move risks sparking a nuclear war that could devastate Northeast Asia and draw in both China and Russia, which have repeatedly warned the U.S. to avoid military action.
The U.S. worries that Moon, the son of North Korean refugees and a former human-rights lawyer, would give away too much in talks with North Korea. His left-leaning Democratic Party, which last May ended nine years of conservative rule in South Korea and controls 40 percent of the National Assembly, advocates a softer approach toward Pyongyang. In his New Year's address, Moon said that while he's committed to resolving the North Korean nuclear problem, "war must not break out on the Korean Peninsula again." Last year, after Trump warned Pyongyang of "fire and fury," Moon asserted the right to veto any military action and vowed to prevent war at any cost.
He's still popular at home, but his adventure in sports diplomacy has come at a political cost. Moon's approval rating has fallen, from about 90 percent last June to below 60 percent, after he agreed to let athletes from both sides march under one flag and to pay for the expenses of North Korean delegates. The opposition Liberty Korea Party and some voters are outraged that he's accommodating a regime that's repeatedly threatened to turn Seoul into an ash heap. "Yesterday we criticized North Korea's provocations, and today we're inviting it to our event and acting as if unification is just around the corner," says Kim Byeong-mi, a resident of Gangneung, a coastal city where North Korean pop star Hyon toured last month and that will host Olympic events. "If we rush like this, there will be a lot of trouble."
Even young people, who overwhelmingly backed Moon last year, are starting to think twice, according to polling data. While many don't want war, they also worry about the cost of reunification. South Korea's parliament in 2015 estimated that even in a peaceful scenario, it could take about $2.8 trillion to help bring the North's gross domestic product to two-thirds that of the South.
Once the Olympic flame is doused, it's hard not to envision geopolitical tensions returning to a flashpoint in short order. Indeed, that may happen as soon as the U.S. and South Korea restart their joint military drills—which the North wants canceled altogether. As inspiring as the Olympics can be, no amount of goodwill on the playing field can erase the ugly history, divergent geopolitical interests, and destructive weaponry arrayed on the peninsula.
Before it's here, it's on the Bloomberg Terminal.
LEARN MORE