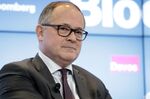 European Central Bank policy makers are uniting to keep the euro down. 
The Governing Council is clearly growing more worried about the currency's recent strength. President Mario Draghi tried to contain it at last Thursday's press conference, not least by rebuking weak-dollar remarks from U.S. Treasury Secretary Steven Mnuchin. The euro's climb since the event underscores the point Gadfly made at the time, that his message wasn't getting across. 
The gains are a story of both dollar weakness and a shift in market expectations toward a view that officials won't extend their quantitative easing program after it ends in September. The idea of a short tapering period has been kicking around, and were it to gain traction, that would undercut some of the currency's strength.
Recent backtracking by some prominent hawks on the Governing Council show that thinking on a QE extension is shifting. 
Executive Board member Benoit Coeure said Wednesday there was very wide agreement for patience and persistence on QE "because we're not yet where we want to be in terms of inflation."
Dutch Central Bank head Klaas Knot said Tuesday that a short taper is perfectly reasonable, a notable change from his previous calls for QE to end "as soon as possible." 
A consensus is building -- it would be hard for it not to, given the way recent economic data has been turning. Core euro-area inflation was just 1 percent in December. Given the risk to import prices from a stronger currency, it's become extremely difficult for the hawks to stand their ground in their push for a sudden end to QE.
And it shows how short ECB officials are of weapons to fight the weak dollar. The jawboning highlights that the bank is otherwise powerless to keep a lid on deflationary pressures from a stronger currency. Rate cuts are out of the question, as is a move now to increase bond purchases from the current 30 billion euros ($37.4 billion) a month. 
In a world of persistent low inflation, the hawks on the panel will struggle to break the link between the inflation outlook and forward guidance on bond purchases. Until recently, some officials had been agitating for this, in a bid to end QE before inflation makes a sustainable return to the ECB goal of below but close to 2 percent. With price pressures fading, so do the arguments for ending QE sooner.
Though Draghi dodged questions at the press conference on when officials will debate forward guidance, evidently there has been much work behind the scenes to provide a more coordinated message to the markets. A benign inflation outlook has made his job of uniting the council easier. 
Before it's here, it's on the Bloomberg Terminal.
LEARN MORE