business
Sydney Seaplane Crash That Killed Compass CEO Remains a Mystery
By
Investigators say no evidence plane struck object in mid air

Flaps were positioned to climb, preliminary report says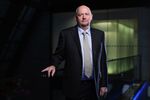 The cause of last month's seaplane crash near Sydney that killed Compass Group Plc Chief Executive Officer Richard Cousins remains a mystery as investigators said there's no evidence the aircraft hit an object or broke up before plunging into the water.
The charter plane crashed into the Hawkesbury River, about 30 kilometers (19 miles) north of Sydney, on New Year's Eve. Shortly before impact, the aircraft took a sudden turn to the right, banking as much as 90 degrees, before smashing into the water in a near vertical position, the Australian Transport Safety Bureau said in a preliminary report into the incident on Wednesday.
Witnesses reported that the engine sounded constant and normal before the crash, according to the ATSB. 
The pilot, 58-year-old Cousins and four members of his close family including his fiancee and two sons perished in the disaster. They'd taken a sightseeing flight from Sydney and had eaten at a restaurant on the banks of the river. They were on the return leg when the plane went down.
All six occupants received fatal injuries and the plane took over 10 minutes to sink, the ATSB said.
Police recovered the wreckage of the DHC-2 Beaver Seaplane, which was built in 1963, on Jan. 4 and the ATSB said an initial examination also showed:
the wings and plane floats separated from the fuselage during impact
there was no evidence of a bird strike or a collision with an object during the flight
there was no evidence of in-flight breakup or structural damage
the plane's flaps were positioned to climb
The bureau will release its final report in around 12 months.
Before it's here, it's on the Bloomberg Terminal.
LEARN MORE