cryptocurrencies
Is the Long Bull Market Run Nearly Over?
By , , and
From stock inflows to rapturous data, good tidings everywhere

Too much of a good thing or the sweet spot for shareholders?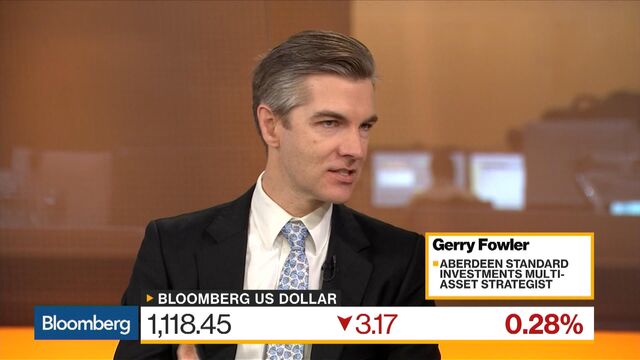 Two days of violent price action in U.S. stocks and now everyone's worried the party's over. It's been a long celebration.
In a little more than a year since Donald Trump was elected president, the S&P 500 Index has yet to return a down month as $8 trillion of equity value was created. You could be forgiven for thinking it's gotten a little extended -- that we're closer to the end than the beginning. This week has seen the heaviest selling since May as investors questioned the rally's staying power.
What follows are eight charts that show the bloom is off the rose in a bull market that is seven months away from becoming the longest ever.
Fear of Missing Out
Whatever the rally is, it's no longer a secret. Investment flows going into stock funds worldwide jumped to $85 billion in this month through Friday, according to EPFR Global data. If the move holds this week, they will set an all-time monthly record. A lion's share of the money has gone to the U.S. stock market, which got into the habit of reaching a record roughly once every four days.
Individuals
The past year's rally in U.S. stocks has attracted a category of investors whose enthusiasm, before now, had been at best tentative: individuals. Client activity at TD Ameritrade Holding Corp. hit a record as the number of daily trades surged almost 50 percent in the past year. At E*Trade Financial Corp., the number of trades from which a broker can generate revenue is the highest ever.
Consumer Confidence
Mom-and-pop investors are pouring money into retirement accounts as the economy picks up speed. Consumer confidence, which measures Americans' optimism about their own and the economy's well-being, is at a generation high.

Market Confidence
The amount of people who expect the stock market to climb is the highest it's ever been. The optimism isn't by itself a sign the bull market is doomed, but when it peaked in early 2000, it plunged to an all-time low three years later as the dot-com bubble burst.

Search Volume
A Google Trends search for "S&P 500 Index" shows that people are Googling the phrase the second most since the 2008 crisis. On a scale from 1 to 100, with a value of 100 meaning peak popularity for the search, the trend gauge now sits at 86.


Crypto Crazy
Investors are on a buying spree and not just for blue chips. For several months they've been willing to bid up virtually anything in the stock market that comes with a certain association: cryptocurrency. Examples include a 500 percent surge in Long Island Iced Tea Corp. the morning it changed its name to Long Blockchain Corp., and the 15-fold rally in bitcoin last year. To some it smacks of the blind buying of Internet-bubble days, when all a company needed for a pop was "dot-com" somewhere in the title.

Fully Employed
Can too many people be working? For the economy, obviously not. But buying shares when joblessness has reached extremely low readings has not always been the best decision. Currently, the U.S. unemployment rate sits at 4.1 percent, a level unseen since the dot-com era. Four of the last five peaks in the S&P 500 came after the jobless rate fell to between 50 and 100 basis points below 4.5 percent, data compiled by Credit Suisse Group AG show.

Flattening Out
Consider the yield curve, viewed by many as an economic indicator that predicts market conditions. The yield spread between 2- and 10-year Treasuries narrowed this month to 48.8 basis points, the flattest level since before the financial crisis. Ten-year yields have surged to three-year highs amid chatter that incoming Fed Chair Jerome Powell will be more aggressive than the predecessor that he served under and never dissented from.

The S&P 500 trading 19 percent above its 10-year average forward-looking price to earnings doesn't necessarily mean the market is poised for a decline. History shows valuations may remain stretched for an extended period of time before the stock market dips.
(
Adds section on market optimism in seventh paragraph.
)
Before it's here, it's on the Bloomberg Terminal.
LEARN MORE