Second-Hand Store Find Unveils Top-Secret Australian Documents
By
Prime Minister Turnbull's top bureaucrat orders urgent probe

Filing cabinets found in Canberra had classified information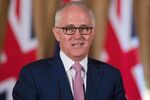 Prime Minister Malcolm Turnbull's top bureaucrat is conducting an urgent probe after hundreds of classified documents spanning the inner workings of five Australian governments were found in a second-hand furniture store.
Martin Parkinson, the head of the Department of the Prime Minister and Cabinet, will investigate after two locked filing cabinets were discovered in the shop containing what used to be government furniture in the capital Canberra.
According to the Australian Broadcasting Corp., which released details of the documents on Wednesday, a "nifty person drilled the locks and uncovered the trove of documents inside." Nearly all are classified and some are labeled "top secret," it said.
Among the revelations in the documents, which normally would be classified for at least 20 years, are:
The Australian Federal Police lost almost 400 national security files in five years
In 2013, then-immigration minister (and now Treasurer) Scott Morrison sought to persuade intelligence authorities to prevent some asylum seekers from being granted permanent protection visas
Upon losing the 2013 election, the office of senior Labor minister Penny Wong left behind almost 200 top-secret documents concerning Middle East defense plans, national security, counter-terrorism operations and intelligence on Australia's neighbors
Former Prime Minister John Howard's National Security Committee considered removing the right for citizens to remain silent under police questioning
Before it's here, it's on the Bloomberg Terminal.
LEARN MORE