South Africa's DA Supports No-Confidence Motion in Cape Town Mayor
By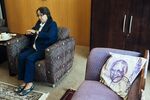 South Africa's Democratic Alliance has authorized its members to vote for the removal of Cape Town Mayor Patricia de Lille, a member of the party, in a no-confidence motion on Wednesday.
While the motion was brought by the African National Congress, the biggest opposition party in the city, the DA's federal executive has given its members in caucus of Cape Town, where it's been the ruling party since 2006, the go-ahead to support the ANC's move against De Lille.
The federal executive "has taken this step on the basis that the caucus, and the party has too lost faith in her leadership," the DA said in an emailed statement on Wednesday. "It is therefore in the best interests of the people of Cape Town and good governance -- given the threat that Patricia de Lille poses to both -- that we have no choice but to remove her as the mayor."
This follows a decision earlier in January that De Lille be charged with misconduct and that she be investigated by the party's federal legal commission. The charges include bringing the party into disrepute, non-compliance with party decisions, appointing loyalists, and failing to perform her duties while the governance of the city has been affected, DA leader Mmusi Maimane said at the time.
Before it's here, it's on the Bloomberg Terminal.
LEARN MORE