markets
Puerto Rico Says Energy Assets May Fetch Up to $4 Billion
By and
Island utility has $100 million of liquidity, governor says

Puerto Rico expects to present legal framework by the summer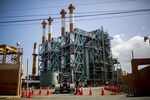 Assets of the Puerto Rico Electric Power Authority, the largest U.S. public power provider, could reap as much as $4 billion, Governor Ricardo Rossello said Wednesday.
The governor is seeking to place the bankrupt utility into private hands. He's heard from some "people" that such a move could garner $2 billion to $4 billion, although those figures aren't an asking price or an official valuation, Rossello told reporters Wednesday in San Juan after speaking at a conference on Puerto Rico's economic future.
The governor announced this month his plan to privatize Prepa, as the utility is known, after Hurricane Maria slammed into the island in September and destroyed its power grid. About 500,000 customers are still without electricity and the system is generating at 81 percent of its capacity, as of Tuesday.
Rossello announced Wednesday a working group that will collaborate with Puerto Rico's federal oversight board on Prepa's privatization. That working group includes Christian Sobrino, the governor's representative on the federal board; Maria Palou, Rossello's infrastructure adviser; Todd Filsinger, Prepa's chief financial adviser, and Rothschild & Co., the commonwealth's restructuring adviser.
Jose Carrion, chairman of the federal board, reiterated the panel's support in privatizing Prepa.
"The clearest thing that Irma and Maria showed us was that the Puerto Rican energy system doesn't work," Carrion said at the conference in San Juan. "And what doesn't work should be changed."
Industry Regulator?
Carrion said the board and government had initial differences of opinion on the legal framework around the privatization. In particular, the board wants any industry regulator to be independent, he said, adding that the government had been "receptive" to the idea.
Prepa, which has more customers than any other U.S. public power utility, had challenges before Maria. Its generation system is 28 years older than the industry average after years of mismanagement and neglect. It relies on oil to produce electricity, which increases costs for consumers and pollutes the island. Prepa fell into bankruptcy last year after the federal oversight board rejected a $9 billion restructuring deal.
Puerto Rico expects to present a legal framework for a Prepa privatization by the summer, Rossello said. The utility has $100 million of liquidity and is waiting for a judge to approve a $550 million loan from the commonwealth government.
The potential privatization would involve Puerto Rico retaining ownership of Prepa's transmission and distribution system, but a private operator would manage and run it for a period of years through a concession agreement, according to Prepa's revised fiscal plan. The utility would sell some existing generation assets to private investors or possibly retire some plants. Puerto Rico would build new generation assets through public private partnerships.
The goal is for electricity rates to be below 20 cents per kilowatt hour, Rossello said.
Prices on commonwealth debt have fallen since the storm. Prepa bonds maturing in 2037 traded Wednesday at an average 33.5 cents on the dollar, down from an average 56.6 cents in September, according to data compiled by Bloomberg.
— With assistance by Jonathan Levin
(
Updates with new working group in the fourth paragraph.
)
Before it's here, it's on the Bloomberg Terminal.
LEARN MORE