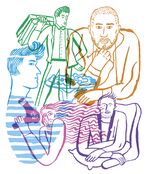 There's a moment in the first episode of the new Queer Eye, an update of the groundbreaking makeover show that ran on Bravo from 2003 to 2007, that will feel coolly foreboding to any liberal city slicker.
A long table of gray-haired white men sit at a diner in Kentucky, chatting over coffee and pancakes. It's a tableau that the political-news media has chosen to embody conservatism, a love of Donald Trump, and a lack of tolerance. Many queer people would approach it with trepidation.
Not so for the five outspoken gay men who star in this eight-episode series from Netflix Inc. Led by the bouncing tresses of hairdresser Jonathan Van Ness, the gang invades the red-hued diner with squeals and claps. There is a pause. Then, the entire table looks up, smiles, and begins to cheer.
Although obviously staged, the scene is a breath of fresh air. The original series arrived in the early days of self-improvement television with the premise that a group of gay men would enter a subject's life and upgrade his lifestyle. Each had a specialty: fashion, grooming, interior design, etc. To the subjects of the show, the experts were alien forces, confusing and intimidating. They sprinted into homes like superheroes at the scene of a crime, answering a call for help on their flip phones. The producers didn't make the political statement overt, but the effect was to introduce gay people and culture into American homes at large. The characters—notably stylist Carson Kressley, grooming expert Kyan Douglas, and cook Ted Allen—delivered memorable one-liners and became enduring pop culture icons.
The premise of the Netflix version is the same, though they've dropped "for the Straight Guy." (In one episode, the team gently helps a gay man to come out.) The puppylike Van Ness, decorator Bobby Berk, doe-eyed chef Antoni Porowski, stylist Tan France, and "culture expert" Karamo Brown are based out of Atlanta and focus on fixing up the men of the South. But the program is decidedly woke, taking on issues of race and other cultural divides. "The original show was fighting for tolerance," says France, who's of Pakistani descent. "Our fight is for acceptance."

Compellingly, in this rendition, that fight goes both ways. Throughout the season, the five often have their own preconceptions upended, such as when they make over Georgia police officer Cory Waldrop. While driving home from a suit-shopping trip, Brown, who is black, tells Waldrop that his own son didn't want to get a driver's license, "because he was scared he was going to get pulled over and shot by a cop." Waldrop explains that as a white officer, he gets stereotyped as well, and he laments the bad actions of some others in uniform. He reassures Brown that to him, "black lives matter."
The episodes can feel forced or too pat, but the sweetness of understanding unites them all. Almost every one ends with a man telling five relative strangers he loves them while crying through brand new eyebrows.
Since shows such as Trading Spaces and What Not to Wear premiered in the early 2000s, the makeover genre has become big business. In 2017, HGTV, with real estate rehab shows such as Property Brothers and Fixer Upper, was the sixth-most watched network on all of cable. That year parent company Scripps Networks Interactive Inc. (which also owns the similarly themed DIY Network) saw $2.4 billion in advertising revenue. Queer Eye is Netflix's first entry into the space.

Unfortunately, the show doesn't have the magic of the original: The cast isn't as naturally winning, and the tips are rendered silly by the larger social issues the men confront. Nor is the advice as indelible as before; a whole generation of guys still think of Douglas whenever they apply cologne by using the method of "spray, delay, and walk away."
Still, the episodes are endearingly joyful, especially in low-key moments such as when a group of firemen in Covington, Ga., blithely takes a dance class with the cast as their partners. And even though the cop episode ends with a lesson in homemade coconut lip exfoliant, the feel-good takeaway is actually how important it is to see people for who they really are. In a stylish twist, the show's strength comes not from lecturing, but from listening.
Before it's here, it's on the Bloomberg Terminal.
LEARN MORE