Kenji Fujimori-Led Group Leaves Peru's Main Opposition Party
By
Departures erase Popular Force's simple majority in Congress

Breakaway group says it would support government policies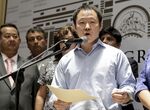 Peru's leading opposition party lost its majority in Congress after a dispute between two of its leading members, the children of former autocrat Alberto Fujimori, led to a split. One of the siblings, Kenji, said his breakaway group would support the government from now on.
Seven lawmakers quit the party after Kenji and two others were expelled, leaving Popular Force with 61 of the 130 seats in Congress. Kenji told reporters the group had been mistreated by the party's leadership after they abstained in last month's vote to impeach President Pedro Pablo Kuczynski, averting his ouster.
"We've been fighting for the liberty of conscience, the liberty of expression, against the abuse, the systematic abuse we've been victims of," Kenji said.
The rift within Popular Force and the Fujimori family may give a much-needed respite for Kuczynski, whose government has been at loggerheads with Congress since his 2016 presidential election victory over Keiko Fujimori, Kenji's sister. Bank of America said this month that it expects a split in the leading opposition party to spur cooperation with the government and bolster Kuczynski's economic agenda.
'Political Fratricide'
Kuczynski precipitated the rupture within Popular Force by approving Alberto Fujimori's pardon after last month's impeachment vote. Lawmakers loyal to Keiko accused Kenji of cutting a deal with Kuczynski to sign the pardon in exchange for abstaining in the impeachment vote. The dissenting group says that instability caused by his ouster would have hurt the economy.
Kenji was twice suspended from Popular Force last year after publicly questioning party policy. After a meeting with Kuczynski in July, he said his priorities were fighting for his father's freedom, supporting governability and defending civil liberties.
Juan Sheput, a governing party lawmaker, told reporters he expects more defections from Popular Force in the coming days to bolster Kenji's group.
"The parliamentary group of Alberto Fujimori has been born, led in Congress by Kenji Fujimori," Sheput told reporters. "We've witnessed an example of political fratricide where the person most affected is Keiko."
Before it's here, it's on the Bloomberg Terminal.
LEARN MORE