politics
Gay-Marriage Clash Throws Costa Rica Presidential Race Wide Open
By
Evangelical lawmaker leads polls ahead of February 4th vote

Government budget deficit and debt have risen to record levels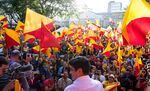 Costa Rica's debt and deficit have risen to the highest on record, and its credit rating has been cut repeatedly in recent years. But, forget all that: It is the prospect of legalizing gay marriage that dominated the debate and threatens to turn the Feb. 4 presidential election on its head.

Many religious Costa Ricans were incensed by a Inter-American Court of Human Rights ruling this month in favor of gay marriage, which the government said it would implement. Support for Fabricio Alvarado, an little-known evangelical candidate opposed to the notion, leaped sixfold, propelling him into first place in some polls and spooking investors.
Alvarado's "aggressive stance" on the issue "seems to have resonated with voters,"' Eurasia Group analyst Risa Grais-Targow said.
Bonds had their biggest one-day drop in 14 months after a poll showed Alvarado, who said he would pull Costa Rica out of the court and the Inter-American Convention on Human Rights, taking the lead. "We aren't willing to push an LGBTI agenda," Alvarado said after the ruling.
Many investors had been looking to Antonio Alvarez, an opposition candidate who has called for a "fiscal rule" to limit the government's ability to take on debt, and is proposing to extend the sales tax to goods that aren't currently covered. He's now likely to slug it out with Alvarado in a second round of voting on April 1.
Juan Diego Castro, a populist lawyer who is pledging a war on corruption, is in third position in the polls. Alvarado leads decided voters with 22 percent support to 21.4 percent for Alvarez in an Opol Consultores poll of 2,800 people conducted from January 25-27. Castro trailed with 15.7 percent.
Rating Downgrades
Investors are jittery about the economy after the fiscal deficit widened to 6.2 percent of gross domestic product last year, the highest since 1983 when the central bank began tracking it. The government's debt burden climbed to 48 percent of GDP in 2016, according the Finance Ministry, the highest since at least 1983. 

"Debt levels are nearing unsustainable levels, causing a constant increase in interest payments," said Emmanuel Aguero, economic analyst for local trading firm Aldesa. "The speed with which the next government deals with fiscal matters will be fundamental."
The Central American nation known for its beaches and cloud forests has suffered a total of five downgrades to its credit rating from Moody's, Fitch and S&P Global Ratings since 2013. Moody's had lifted the nation to investment grade, but all three agencies now rate Costa Rica's bonds as junk.
A runoff election will be held between the top two candidates if no one wins more than 40 percent of the vote on Sunday. So far, none of the 13 contenders has polled above 25 percent, with about a fifth of the electorate still undecided.
Alvarez would be the favorite in a runoff with Alvarado, according to Eduardo Arcos, a Mexico-based analyst for Control Risks. Voters will also elect new members of the 57-seat unicameral congress in Sunday's vote. The incoming administration will need to address the fiscal situation urgently, Arcos said.
"The pressure for fiscal reform, which is the top concern for the legislature, will be very pressing," he said. "These problems have dragged on way too long and markets are becoming not so generous with the government."
Before it's here, it's on the Bloomberg Terminal.
LEARN MORE