politics
Future of Brazil's Economy Is on Ballot, Finance Minister Says
By and
Henrique Meirelles speaks to Bloomberg at Credit Suisse event

Minister says 2 million jobs will be created this year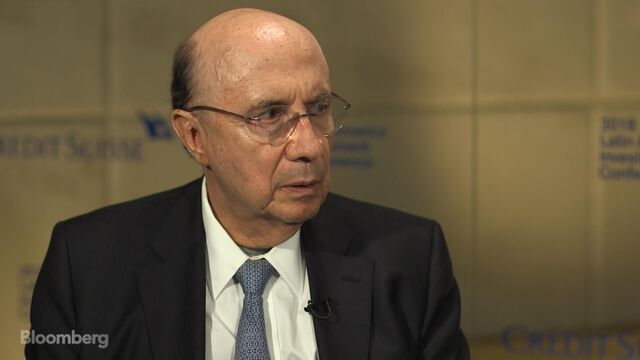 In this year's elections Brazil faces a choice between a market-based system or a return to a failed state-orientated experiment, Finance Minister Henrique Meirelles told Bloomberg.
Speaking at the Credit Suisse Latin America Investment Conference, Meirelles -- a possible presidential candidate -- gave an upbeat assessment of the current trajectory of the Brazilian economy, saying he expects to see 2 million jobs created this year as confidence recovers. He highlighted the recent rise in real estate prices as a significant positive indicator.
Though widely respected by the financial markets, Meirelles's candidacy depends to a large extent on Brazilians feeling the benefits of the economic recovery. At present he barely registers in opinion polls. His credibility was also damaged by S&P Global Ratings's recent decision to downgrade Brazil's credit rating further into junk territory. If congress fails to approve the government's flagship pension reform proposal over the next few months, he may struggle to make a convincing case for the presidency.
The forthcoming elections are the most important issue facing Brazil, Meirelles said. "We will decide whether we follow the current route of reforms and modernizing the economy," he said. "Or we will go back to a more state-orientated experiment that did not work."
The finance minister said that he expected Eletrobras, the state-run electricity company, to be privatized by the end of the year, in a move that should raise the government around 12 billion reais ($3.8 billion).
He added that he believed pension reform would be approved soon. "Pension reform is not an option," he said. "It has to be done."
Before it's here, it's on the Bloomberg Terminal.
LEARN MORE