markets
Five Things You Need to Know to Start Your Day
Get caught up on what's moving markets in Asia.
By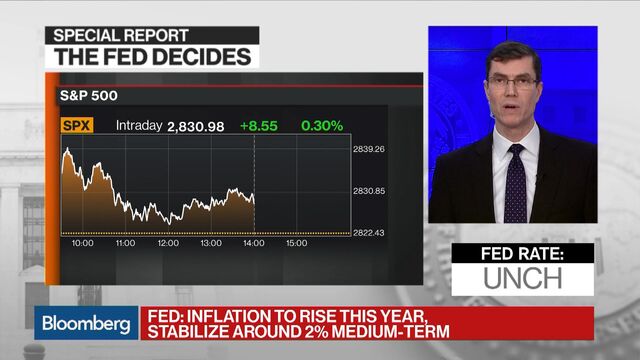 Want to receive this post in your inbox every morning? Sign up here.
The Fed sets the stage for a March interest rate hike, foreigners are piling into China's domestic bond market, and Japan is losing a "cold currency war." Here are some of the things people in markets are talking about.
Washington Takes Center Stage
Federal Reserve officials, meeting for the last time under Chair Janet Yellen, left borrowing costs unchanged Wednesday while adding emphasis to their plan for more hikes, setting the stage for an increase in March under Jerome Powell. The Federal Open Market Committee's statement, which changed previous language to collectively acknowledge stronger growth and more confidence that inflation will rise to the 2 percent target, may spur speculation that the Fed will pick up the pace of interest-rate increases. Separately, the U.S. Treasury will increase the amount of long-term debt it sells to $66 billion this quarter, marking the first boost in borrowing since 2009 as it seeks to cover mounting budget deficits.
China Bond Market Luring Foreigners
China's efforts to open up its domestic bond market, the world's third largest, are starting to pay off, by pulling in foreign investors drawn to relatively high yields in a newly stable currency. China pulled 346 billion yuan ($55 billion) of foreign funds into bonds in 2017, central bank data show. About one-third of the flows since the start of July came via the Bond Connect launched that month with Hong Kong, Bank of China (Hong Kong) Ltd. says. While the total inflow is a fraction of the $337 billion of foreign net purchases of U.S. Treasuries for 2017 through November, it marks a 41 percent surge from 2016. It's a crucial step to balancing pressures on capital flows in and out of China, and if sustained would make it less risky for policy makers to relax controls on domestic companies and households taking money out of the country.
Japan Losing 'Cold Currency War'
The U.S. is fighting — and winning — a "cold currency war" against Japan, Europe and others as it seeks to weaken the dollar, according to Pacific Investment Management Co. The greenback's nearly 12 percent plunge since the start of 2017 is being fueled by fiscal and monetary policies as well as rhetoric intended to debase the U.S. currency, Pimco global economic adviser Joachim Fels wrote in a blog post. Central banks overseas have refrained from pushing back too hard amid fears over increased protectionism from the Trump administration. "Cold wars are not fought in open battle (for example, with currency intervention), but with words and covert actions," Fels said. "These actions are sending an implicit but very clear signal to markets: A weaker dollar is the goal. Markets have understood the signal."
India Budget Balancing Act
Indian Prime Minister Narendra Modi has a tough balancing act in Thursday's budget: maintaining fiscal prudence or handing out cash to placate rural voters ahead of next year's election. After scoring a rare sovereign upgrade late last year, Modi wants to keep global investors and credit-rating companies on his side. Key to that will be sticking his goal to narrow one of Asia's largest budget deficits. 
Coming Up…
The start of a fresh month may bring fresh rallies in equities, especially if we get repeats of recent strong PMI prints. South Korea, Indonesia and Thailand will report CPI so there will be keen interest in whether we get a major economy reporting an upside inflation surprise. There's also Korean trade data, Aussie home prices and building approvals, Hong Kong retail sales and of course India's budget. Europe features its own slew of PMI releases, as well as a Czech central bank meeting economists expect will result in a rate hike. The American session brings earnings for Alibaba, Alphabet/Google, Amazon and Apple, as well as U.S. manufacturing and construction spending.
What we've been reading
This is what caught our eye over the last 24 hours.
— With assistance by Garfield Clinton Reynolds, Craig Torres, Christopher Condon, Anirban Nag, Iain Marlow, Lananh Nguyen, and Emma Dai
Before it's here, it's on the Bloomberg Terminal.
LEARN MORE