markets
European Union's Biggest Rate Hawks Are Poised to Hike Again
By
Analysts see 25 basis-point benchmark increase on Feb. 1

Exchange-rate outlook to shed light on future tightening pace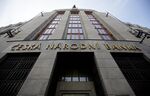 The Czech central bank will probably raise interest rates for the third occasion in less than a year on Thursday and for the first time since 2013 release a currency outlook that may guide investors on what to expect in further monetary tightening.
The Czech National Bank will raise its main interest rate to 0.75 percent from 0.5 percent, according to 20 of 22 economists surveyed by Bloomberg. Two analysts expected no change. The quarterly staff forecast will disclose projections for the koruna exchange rate, crucial to policy deliberations as central bankers try to cool one of Europe's fastest-growing economies.

"The new CNB macro forecast will probably depict an even more bullish outlook, reinforcing the call for tighter monetary policy," said JPMorgan Chase & Co. economist Jose Cerveira, who expects four 25 basis-point hikes this year. The publication of the euro-koruna assumptions is "so much anticipated that it is likely to overshadow the rate decision itself."
Rate setters in Prague are relying on a mix of interest-rate hikes and koruna gains to rein in inflation that's already running above target as a shortage of workers drives wage growth in the country of 10.6 million people. Buoyed by a robust economy and expectations of further policy tightening, the Czech currency has rallied the most worldwide since last April, when the central bank ended a Swiss-style, appreciation-limiting intervention regime imposed in 2013.
The koruna was little changed at 25.31 per euro as of 9:47 a.m., after strengthening 1 percent this month and 6.9 percent since the removal of the central bank's 27-per-euro cap. Earlier this week, prospects of more rate hikes helped lift the yield on 10-year government bonds to more than 2 percent for the first time in almost four years. The security traded at 1.98 percent on Wednesday.
The policy decision is slated to be published on Thursday at 1 p.m. in Prague. Rusnok is expected to announce the highlights of the updated economic forecasts, including the central bank's exchange-rate assumptions, at a news conference at 2:15 p.m.
"More activist" central bankers, including Vojtech Benda and Vice Governor Mojmir Hampl, will seek faster rate hikes in 2018 than what's assumed in the central bank's current forecast, according to CSOB AS analyst Jan Bures. A "more conservative" group led by Governor Jiri Rusnok will prefer to tighten more cautiously to avoid excessive koruna gains, Bures said.
The exchange rate assumptions "will give the markets more clarity on how much koruna appreciation would make the central bank uncomfortable and at what level it may start thinking about slowing down its rate hikes," Bures said in an email. "But in all likelihood, we're not at that level yet."
— With assistance by Marton Eder, and Andre Tartar
(
Updates with koruna and bonds in fifth paragraph.
)
Before it's here, it's on the Bloomberg Terminal.
LEARN MORE