Emerging-Market Bull Run Close to Topping Out for Finisterre
By
CIO Buchet sees opportunities in South Korea, Taiwan, India

'Markets are not focused enough on what normalization means'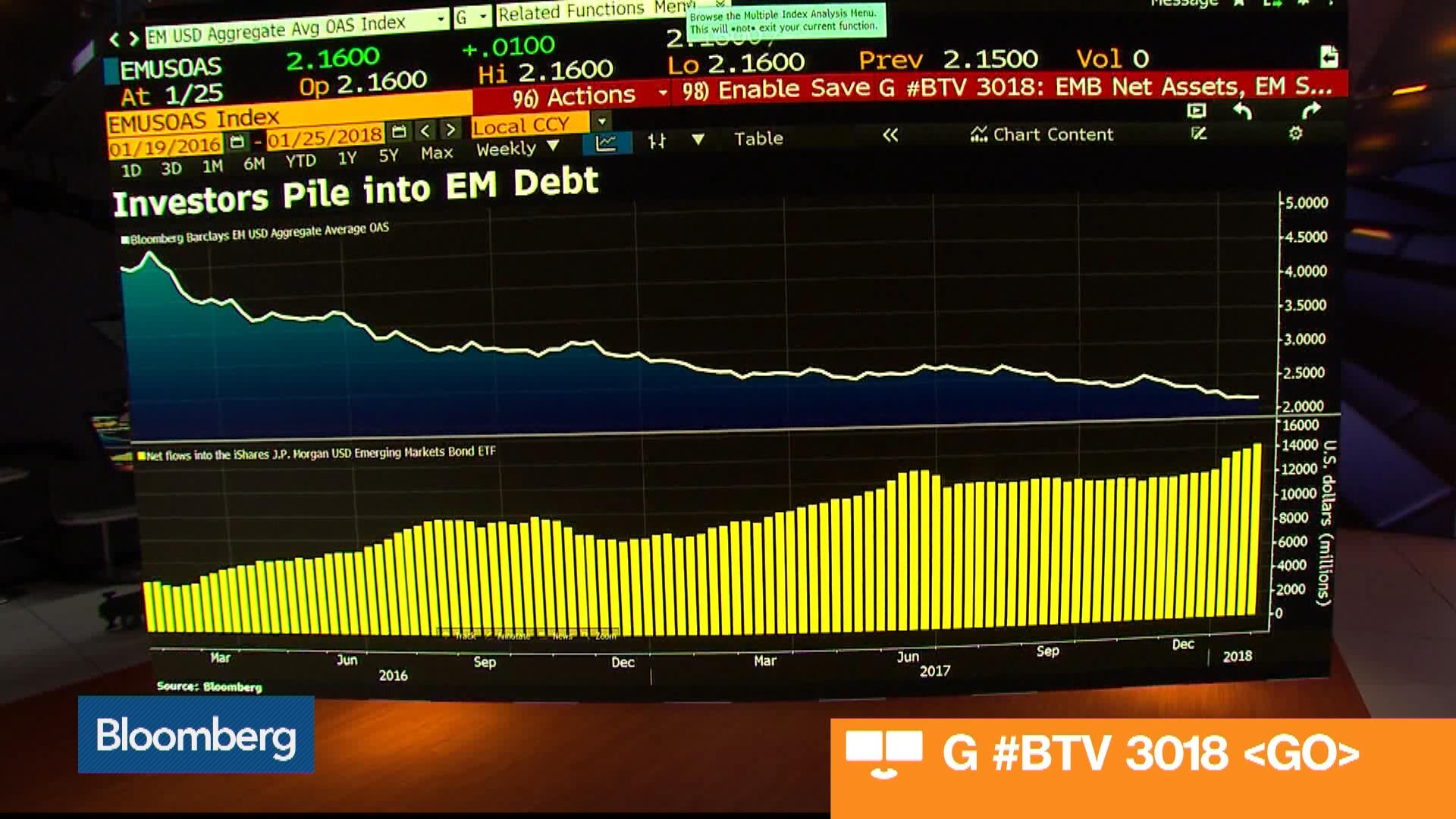 Amid the euphoria across emerging markets, there are more than a few voices that say it's time for a pause.
One such is Finisterre Capital LLP, whose $700 million Emerging Market Total Return Strategy funds investing in fixed-income securities returned 11 percent and 12 percent in 2016 and 2017, respectively. Chief Investment Officer Damien Buchet says the scope to advance further this year is limited as growth in developing economies has reached a mature phase. 

"It's quite striking everyone becomes so positive after we have rallied so much," said Buchet. "We're in a less positive part of the cycle than we were two years ago, which doesn't mean that the next stage is a market crisis but a repricing is probably more accurate."
The MSCI index of emerging-market currencies rose and the Bloomberg Barclays measure of local-currency debt of developing nations reached record highs in January amid optimism that growth prospects will outweigh further interest-rate hikes by the Federal Reserve. They rose 2.9 percent and 2.8 percent, respectively, last month.
Read Goldman Sachs's contrasting view on emerging-market cycle, here
Read More: Here is what Mobius sees in emerging markets this year
Below are some of Buchet's views he shared in an interview in Singapore. Finisterre Capital is a subsidiary of the Des Moines, Iowa-headquartered Principal Financial Group, which oversees $669 billion in assets:
Where are emerging markets at right now?
Developing economies are within the adjustment period to new global business models that started in 2012, which was amplified by the taper tantrum and the commodity shock; as examples of the changes, China is shifting to a consumption-led economy, Russia and Brazil are reducing their dependence on commodities and reforms are taking place in countries such as India
The current phase of emerging-market growth was preceded by the "massive super cycle" for 10 years starting 2002 to 2012, which was marked by the global manufacturing shift to developing economies from advanced markets, an export-driven Chinese economy and the strengthening of commodity prices
What's your investment strategy in a maturing cycle?

"We raise a little bit of cash, we continue to play the momentum, but mostly through local currencies that are much more liquid and easy to hedge." In addition, reduce the allocation to sovereign and increase to corporate debt, which have "very bottom-up stories"
"I don't see any grounds for us to move away from that broad range trading we've been in" since 2011-2012; the long-range transition to new business models for developing economies means range-trading for markets
Where do you see opportunities?
Valuations are "relatively undemanding" in currencies and "when some currencies are less attractively valued then the equity inflows can save the day"
Currencies of countries being supported by equity inflows -- South Korea, Taiwan and India -- are attractive; potentially Brazil as well as South Africa, depending on the political developments
Local-currency bond markets still offer attractive real interest rates
What are the risks?
Some of the flows to emerging markets could ebb as global central banks normalize their monetary policies; "Markets are not focused enough on what normalization means"
Normalization means better growth than before. But it also means that some of the abnormal situation we've had with low volatility, tight credit spreads, default risks were suppressed because those very weak credits which normally would have been allowed to default always found a way to be saved
— With assistance by Tomoko Yamazaki
Before it's here, it's on the Bloomberg Terminal.
LEARN MORE