Czech Premier Seeks Fringe Parties' Backing
By
Mainstream parties are refusing to team up with Babis

Putin ally President Zeman gains influence during struggle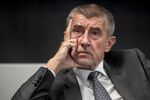 Czech billionaire Prime Minister Andrej Babis will try to muster support for his cabinet from anti-establishment parties that oppose membership in western alliances because mainstream political forces are refusing to cooperate with him.
Traditional political parties torpedoed Babis's initial cabinet lineup this month in parliament, saying they can't join him because he's facing a fraud investigation tied to the misuse of European Union funds. Babis, who denies the allegations, is seeking a new way to secure backing, either for a coalition or a minority setup with the tacit approval of other parties. He's now ruling in a caretaker role as he awaits a second government-forming mandate promised by newly re-elected President Milos Zeman.
That puts Babis, the second-richest Czech, in a delicate position as he tries to distance himself from euroskeptic eastern EU leaders in Poland and Hungary who have clashed with officials in Brussels over topics ranging from refugees to the rule of law. He said Wednesday that because traditional parties had spurned him, he would approach the Communists, commonly referred to as KSCM, and Freedom and Direct Democracy, an anti-Muslim party known as SPD that wants a Brexit-style vote to leave the EU, for tacit support.
Story about parliament allowing Babis's investigation over alleged fraud
"I'm sorry this is their position, but I can't do anything about it," Babis told reporters in Prague. "So we'll continue in negotiations about potential tolerance regarding program issues with the KSCM and the SPD."
Before an October election victory propelled his ANO party from a junior ruling force to the government-leading party, Babis denounced his then-coalition partners -- the Social Democrats and the Christian Democrats -- and other traditional forces as incompetent and corrupt. Now they've turned their backs on him, and his main chance of working with one of them again is a possible leadership change at the Social Democrats' February congress. Even then, however, the two parties would lack a majority in the legislature.
The Communists, the direct descendants of the totalitarian party that ruled the former Czechoslovakia behind the Iron Curtain, have called for the Czechs to leave the North Atlantic Treaty Organization. SPD leader Tomio Okamura, a deputy parliamentary speaker and an ally of French National Front Leader Marine Le Pen, is demanding a vote to leave the EU and has called on Czechs to harass Muslims, who make up a tiny fraction of the country's 10.6 million population.
The protracted government talks have increased the influence of Zeman, who in his first five-year term carved out a stronger role for the traditionally ceremonial presidential post. He has in the past used what he calls a "creative interpretation" of the constitution to keep a technocrat cabinet in power for months without parliamentary approval, and following Babis's confidence-motion defeat, Zeman has no deadline to appoint the next cabinet.
Before it's here, it's on the Bloomberg Terminal.
LEARN MORE