AT&T Surges as Tax Windfall Pads Profits, Mobile Gains Surprise
By
Carrier plans to use lower taxes to strengthen balance sheet

Year-long loss of TV customers ends thanks to DirecTV Now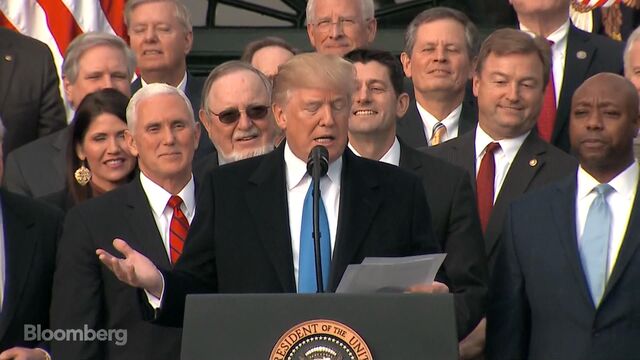 AT&T Inc. shares spiked higher Thursday, posting their biggest intraday jump in six months after the company provided a sunny outlook for 2018 due to tax cuts Chief Executive Officer Randall Stephenson rooted so hard for last year.
Riding a lower corporate tax rate, AT&T expects free cash flow to rise by $3.4 billion this year to $21 billion, providing financial flexibility for the phone giant while it works to keep wireless and TV subscribers.
The forecast added to an upbeat end to the year for the second-biggest wireless carrier, which reported a surprise gain of 329,000 U.S. phone subscribers in the fourth quarter. Analysts had projected a loss of 31,000 on average. Instead of cutting prices, AT&T has kept customers by discounting bundled services like unlimited mobile data and DirecTV.
AT&T shares rose as much as 4.9 percent to $39.27 in New York. Last year, the stock fell 8.6 percent.
"AT&T is controlling what it can while reaping the benefits of tax reform," Amy Yong, an analyst with Macquarie Capital USA Inc. wrote in a note.
Even with the tax benefits and the surprising mobile subscriber growth, "AT&T's wireless business is not out of the woods yet," Jonathan Chaplin, an analyst with New Street Research LLC, wrote in a note.
Stephenson plans to add $1 billion to AT&T's capital investments this year thanks to the lower tax rate, helping the company prepare for the transition to a new fifth-generation mobile-phone network. He's seeking a judge's backing to acquire Time Warner Inc. over the opposition of the U.S. Justice Department, an $85.4 billion deal to get the rights to programming from "Game of Thrones" to "Harry Potter."
Read a QuickTake Q&A here on the fight over the AT&T-Time Warner deal.
Stephenson has been one of the most outspoken proponents of tax cuts as a member of the Business Roundtable lobbying group, which quadrupled spending in the last three months of the year as it threw support behind President Donald Trump's tax bill. He commemorated its passage by awarding a $1,000 bonus to 200,000 employees, a gesture that was followed by more than 70 other companies.
"With the passage of tax reform, we see a significant boost to our balance sheet, reducing $20 billion of liabilities and increasing shareholder equity by a like amount," Chief Financial Officer John Stephens said Wednesday on a call.
TV subscriptions also rose thanks to DirecTV Now, an online streaming version of the satellite service, which added 368,000 customers. That helped boost AT&T's total video customers by 161,000 in the fourth quarter, the first gain of the year, despite losses of traditional satellite and cable subscribers.
Before it's here, it's on the Bloomberg Terminal.
LEARN MORE