Anthem Rebounds as 2018 Profit Forecast Calms Investor Jitters
By
Stock climbs 3.7 percent, after dropping on Amazon health news

Anthem offers first outlook under new CEO Gail Boudreaux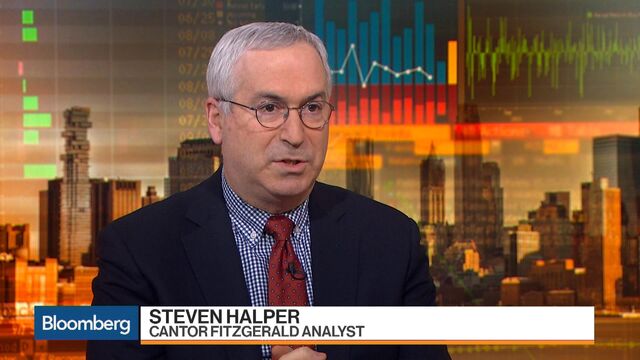 Anthem Inc.'s stock rebounded after the health insurer's forecast for a 2018 profit increase heartened investors who've been nervously watching big potential changes in the industry.
The Indianapolis-based company's earnings this year will exceed $15 a share, with the recent U.S. tax overhaul providing roughly a 15 percent boost to profits, Anthem said in a statement on Wednesday. That sent the stock about 3.7 percent higher, partly recovering from Tuesday's drop on news that three corporate giants were starting a health company.
"2018 guidance is overall stronger than we expected," Matt Borsch, an analyst at BMO Capital Markets, said in a note to investors.
Gail Boudreaux, Anthem's new chief executive officer, is confronting a rapidly changing industry. Anthem in October said that it plans to start its own pharmacy-benefits operation, in collaboration with CVS Health Corp. In early December, CVS agreed to buy Anthem's rival, Aetna Inc.
Meanwhile, the three massive employers -- JPMorgan Chase & Co., Berkshire Hathaway Inc. and Amazon.com Inc. -- said that they are planning to create a health company of their own, potentially offering new competition for insurers like Anthem. The corporate behemoths said their new company, still in its formative stages, would be designed to drive costs down.
The news sent shares of other insurers and pharmacy-benefits managers plummeting on Tuesday as well. Many also made up some of the lost ground on Wednesday amid a wider stock-market advance.
On a conference call with analysts, Chief Financial Officer John Gallina said Anthem's Affordable Care Act insurance plans were "slightly" profitable last year, a better result than the company's expectation they would break even. The insurer markedly reduced its ACA offerings for 2018, halting sales on Obamacare's marketplaces entirely in states including Indiana, Maine, Nevada and Ohio, while pulling back in big markets such as California.
Overall, fourth-quarter 2017 adjusted profit was $1.29 a share, 3 cents above the average $1.26 estimate of analysts. Operating profit fell 42 percent to $381 million, a decrease Anthem blamed in part on "increased investment spend to support growth initiatives."
Before it's here, it's on the Bloomberg Terminal.
LEARN MORE