markets
VIX Hedging Proves Timely as Record Stock Rally Shows Fatigue
By
Volatility gauge has been rising with S&P 500 more often

Simultaneous advances have led to more stock gains in the past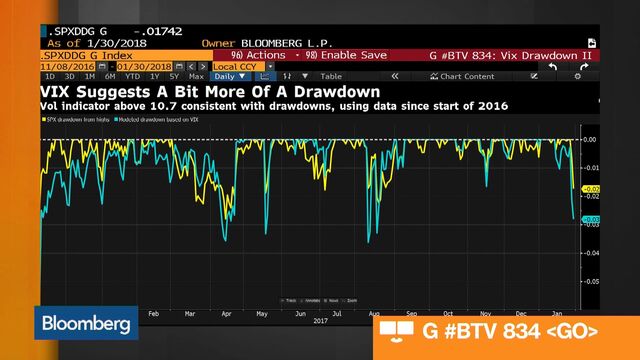 All the hedging that's pushed up the VIX lately is now proving useful.
The S&P 500 Index's biggest slump since September halted a rally that came in tandem with an advance in the Cboe Volatility Index, a rare occurrence that happened as investors favored VIX options to protect equity gains. The selloff that started in the U.S. triggered declines in Asian and European stock markets on Tuesday as volatility climbed across regions and asset classes.
A surge in trading of VIX options in January has helped push up the index, now at its highest level since August. A record number of contracts betting on a rebound in volatility changed hands daily this month, with volume three times greater than for puts, data compiled by Bloomberg show.
The VIX and S&P 500 have been rising in unison more frequently lately. They climbed together in five months in 2017, something that had happened only in 1996 and 1995 previously, years when the equity index posted gains of more than 20 percent. Despite Monday's slump, the S&P 500 remains on track for its best monthly advance since 2015, and the VIX is heading for its biggest surge since October 2016.
So what's next? While that's anybody's guess, in the past, months of concurrent gains in the S&P 500 and VIX led to rallies in the equity measure in the following month two-thirds of the time -- and the gains were greater in that next month 72 percent of the time, data compiled by Bloomberg show.
Before it's here, it's on the Bloomberg Terminal.
LEARN MORE