Judge Rebukes Trump's 'Vicious' Anti-Immigrant Statements
By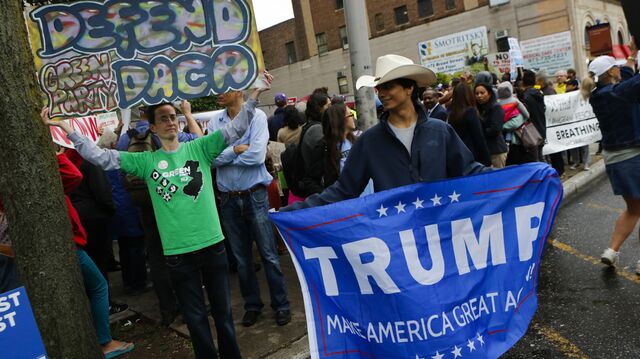 President Donald Trump received another stinging rebuke from a federal judge over his statements and tweets about immigrants.
U.S. District Judge Nicholas Garaufis in Brooklyn, New York, on Tuesday questioned whether statements during the presidential campaign -- when Trump referred to many Mexican immigrants as rapists and criminals -- and other comments, influenced an administration decision to end a program protecting children of undocumented immigrants from deportation.
"It's not ordinary," Garaufis said. "It's extreme, it's recurring, it's vicious, it's not what we see from our leaders."
"How do I take into account these statements that are so egregious and unfair by the person who sits in the Oval Office?" the judge asked. "I don't accept the premise that it's something we can ignore."
The decision to end the Deferred Action for Childhood Arrivals program on March 5 is being challenged by immigration lawyers and state attorneys general. They asked Garaufis for a nationwide order to protect so-called Dreamers. A judge in San Francisco on Jan. 9 ordered the administration to resume processing renewal applications for the Dreamers.
Stephen Pezzi, a government lawyer, said there's no evidence that statements made by Trump during the campaign played into a decision to end the program, made by the Acting Secretary of Homeland Security Elaine Duke.
Garaufis didn't immediately rule on the challengers' request.
Trump has expressed sympathy for the Dreamers recently and offered up a proposal to Congress to put 1.8 million undocumented immigrants on a path to citizenship in exchange for tighter controls on new entrants and funding for border security including a wall on the southern border.
A Manhattan federal judge on Monday slammed the administration's deportation policies saying they resemble actions of "regimes we revile as unjust."
Before it's here, it's on the Bloomberg Terminal.
LEARN MORE