Trump Not Planning New Offer for 'Dreamers' in State of Union, Official Says
By and
Also will avoid Mueller probe, Russia election meddling

Has spent Monday and Tuesday running through address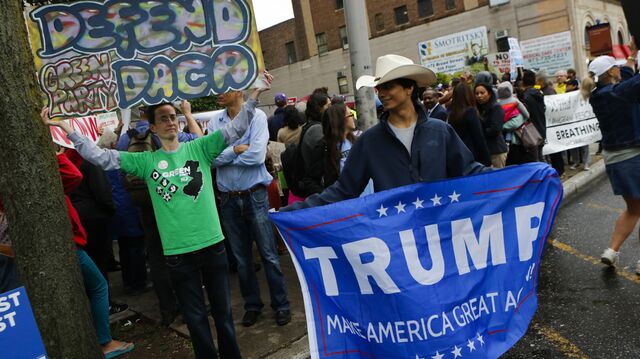 President Donald Trump won't announce in his State of the Union address Tuesday that he's extending protections against deportation for young immigrants brought to the U.S. as children, a key policy goal of Democrats, an administration official said.
Trump also will avoid any reference to Russian interference in the 2016 presidential election, Special Counsel Robert Mueller's investigation into possible collusion between Trump campaign officials and Russians, or a House Republican memorandum criticizing FBI counter-intelligence surveillance of Trump campaign officials, said another person familiar with his plans.
Those strategic decisions keep the address clear of the biggest political controversy hanging over the administration. It also forgoes a moment to extend an olive branch to Democrats on one of the most visible and contentious policy issues separating the parties -- how to handle the so-called Dreamers -- which led was the core issue behind the three-day government shutdown earlier this month.
While Trump has said he wants to help Dreamers, the official said the president doesn't plan to use the nationally-televised moment to move back a Mar. 5 deadline he set for ending their protections.
The president will pass up that chance despite casting his address in a luncheon Friday with news anchors as an effort reach out to the opposition Democrats to try to unify the country. Democratic members of Congress plan to bring dozens of so-called Dreamers to the address as guests.
"I want to see our country united," Trump told the anchors, according to the White House. "I would consider it a great achievement if we could make our country united."
Trump spent Monday and Tuesday running through the speech, his first State of the Union address. In meetings, as a line comes to him, he has dashed off a note to himself on scrap paper, or has telephoned senior adviser Stephen Miller or staff secretary Rob Porter to dictate his idea, another administration official said.
Other key people helping on the speech have included Vice President Mike Pence, National Security Adviser H.R. McMaster, economic adviser Gary Cohn, and speechwriters Vince Haley and Ross Worthington, the official said.
Trump plans to use his speech to urge lawmakers to take action on immigration and infrastructure, and will aim to frame the issues in a way that can draw bipartisan support, White House officials said in previews of the speech. 
Democrats have criticized the administration's demands on immigration, released late last week. The White House proposed giving 1.8 million undocumented immigrants a path to citizenship in exchange for drastically reducing visa preferences for family members of U.S. citizens, a $25 billion trust fund for a border wall and stepped-up immigration enforcement.
The administration hasn't yet unveiled its infrastructure proposals, which had been promised in early-to-mid January.
The president also plans to talk up positive economic data and the tax overhaul passed late last year along party lines, advisers said.
Trump will speak a day after the FBI's deputy director, Andrew McCabe, stepped down from his post after blistering criticism from Trump dating back to the 2016 presidential campaign. 
Republicans on the House Intelligence Committee voted Monday to a release a GOP-authored classified memo that alleges bias and counterintelligence abuses in government surveillance of people surrounding Trump. The White House is reviewing the document to determine whether it should be released and whether portions should be redacted.
— With assistance by Jennifer Epstein
Before it's here, it's on the Bloomberg Terminal.
LEARN MORE