Even Trump's Allies Scorn Plan for Federal 5G: 'We're Not Venezuela'
By
Democrats also oppose big government role in mobile network

National security concerns are said to have led to proposal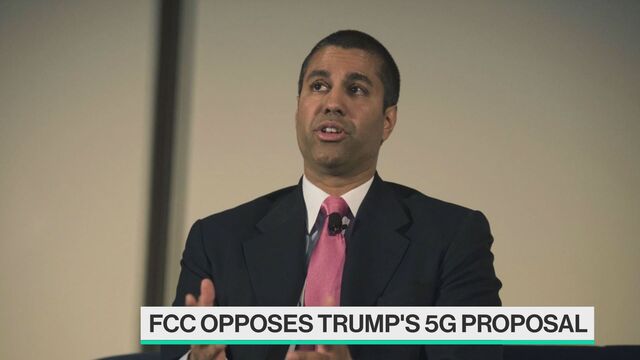 It's been both conservative dogma and law for more than 20 years: private companies rather than the government should guide the future of U.S. telecommunications.
So it was an unpleasant surprise to many when a draft proposal urging heavy federal involvement in the next generation of fast mobile networks emerged from the White House of Donald Trump -- who won the presidency after promising massive cuts to regulations.
"We're not Venezuela," Representative Greg Walden, an Oregon Republican and the chairman of the House Commerce Committee, said at a policy gathering in Washington. "Government taking it over, controlling it, is probably -- clearly -- not the way to go."
Federal Communications Commission Chairman Ajit Pai, a Republican chosen by Trump, was even more blunt: "I oppose any proposal for the federal government to build and operate a nationwide 5G network"
The proposal is rooted in concerns about China and cybersecurity, according to two administration officials familiar with the plans who were granted anonymity to discuss them. Unresolved questions include the extent of taxpayer funding, and whether a fifth generation, or 5G, network would be owned by the government, one of the officials said.
Trump 5G Proposal Runs Into Disarray as FCC, Wireless Lobby Balk
If the federal government directly participates in building a wireless network intended for commercial use, it would be a departure from the decades-long tradition of auctioning licenses to telecommunications companies to build their own networks. Phone service has been on a deregulatory path for decades, including legislation in 1996 that President Bill Clinton said "promotes competition as the key to opening new markets and new opportunities."
White House Press Secretary Sarah Sanders said at Monday's briefing that discussions are at an early stage with no decision other than "the need for a secure network."
Democrats were no kinder to the idea of a major government role in a 5G network than Republicans.
"The Trump administration has decided that they are indeed smarter than the competitive market," said Tom Wheeler, who preceded Pai as FCC chairman, in a blog post. Separately, Senator Mark Warner of Virginia called a nationalized 5G network "expensive and duplicative."
Your Connected Devices Are Set to Get a Boost From 5G: Graphic
The possibility of a nationalized network, however, builds upon a priority of the Trump administration. "We will improve America's digital infrastructure by deploying a secure 5G Internet capability nationwide," the White House said in December in a document outlining its national security strategy.
The proposal is likely a "trial balloon" released to gauge reactions, said Rick Boucher, a former member of Congress and chair of the government strategies practice at Sidley Austin.
"My guess is this will put an end to it," Boucher said.
The plan comes from national security aides in the administration, who are concerned about risks if the the U.S. comes to rely on Chinese equipment for its 5G networks, Blair Levin, a policy adviser to New Street Research, said in a note.
The national security team looked for ways to to accelerate the deployment of American 5G networks, "apparently concluding that the current deployment plans are too slow and too limited for national security purposes," Levin said.
The plan's chances of success are "are significantly below 50 percent," in part due to industry opposition, Levin said. He added a caution: "If framed as a national security concern, it is more difficult to walk away from the undertaking."
To succeed it will need to overcome hostility from conservatives who might normally be expected to back the administration.
"I don't understand why we would need to nationalize," said John Cornyn, of Texas, the second-ranking Republican in the Senate. "I think there are other steps we can take short of that."
— With assistance by Sahil Kapur, Margaret Talev, and Jennifer Epstein
Before it's here, it's on the Bloomberg Terminal.
LEARN MORE