markets
Tesla Tests Money Managers' Demand for $546 Million Bond Deal
By
Slice of deal may yield 0.4 percentage point above benchmarks

Moody's gives largest portion of ABS offering top Aaa rating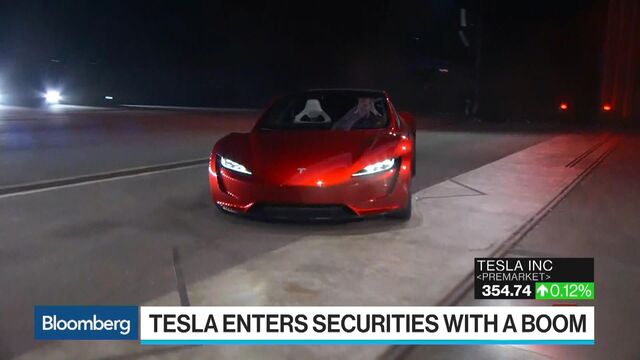 Tesla Inc., stock market darling and junk-bond market slouch, has started testing investors' appetite for a different kind of debt as it struggles to meet production goals for its new Model 3 sedan.
The electric car company has started marketing $546 million of bonds backed by leases of its Model X and Model S vehicles, with the largest portion of the offering garnering a top Aaa rating from Moody's Investors Service. The company last year burned through around $8,000 a minute as it tried to ramp up production of its Model 3, which is meant to be its affordable sedan for the masses. To feed its hunger for cash, Tesla sold stock, convertible bonds and junk notes. 
Now it's turning to asset-backed securities, a type of financing that's been embraced by more established carmakers like Hyundai Motor Co., Nissan Motor Co., and General Motors Co. Tesla's deal will be the first backed exclusively by leases on electric vehicles. 
'Really Hot'
It's hard for investors to figure out how much those leases are worth, because a key part of the calculation -- how much the underlying cars will be worth when the contract is over and the vehicles get sold -- is a big question mark. The market for these autos is new and data is sparse. Even so, investors say demand for the securities could be strong because at least some fund managers are bullish on consumers and asset-backed securities now.
"The market is really hot," said Glenn Bowling, head of ABS credit at Invesco Ltd, which oversees $938 billion of total assets. "I don't expect that to change anytime soon. Tesla is coming in and taking advantage of that."
Investors wary of rising yields as Treasury notes sell off have been buying asset-backed securities because they are typically shorter-term notes that are often safer than corporate debt. Moody's rates Tesla's unsecured bonds B3, deep in junk, but gave all but one slice of the securitized deal investment-grade ratings.
The Palo Alto-based carmaker may sell the largest portion of the offering, $422.6 million of Aaa-rated bonds, for 0.4 to 0.43 percentage points above benchmark interest rates, according to a person familiar with the matter who asked not to be named because the deal is private.
'Amplified' Risk
Investors buying the bonds will receive a stream of payments from Tesla's leasing customers, though they're mostly betting that the cars and SUVs will maintain strong resale values once the leases end. Moody's Investors Service analysts led by Nicky Dang said in a note last month that residual value risk is "amplified" for battery electric vehicles compared with traditional combustible-engine cars due to their higher cost, smaller driving range and the limited history for their resale values. 
Tesla maintains tight control over the market for its used cars, and very few vehicles end up being sold at auction, where most second-hand car dealers get their inventory. As of Nov. 30, the company had data on just 4,344 used Model S sedans and Model X SUVs sold last year, according to a Moody's report on the new offering.
Half Californian
Backing a bond by just two types of vehicles -- with the Model S making up 68 percent of the deal -- is also unusual. For comparison, a Mercedes-Benz leasing deal sold earlier this month had three-quarters of its value tied to five different vehicles, according to S&P Global Ratings. Almost half of the leases in the Tesla deal were made to California borrowers, compared with about a quarter in the Mercedes offering. The state accounts for about 12 percent of U.S. population.
When assessing Tesla's transaction, Moody's analysts estimated the value for cars at the end of their leases, then slashed its estimate by 50 percent, more than their typical 35 percent to 36.5 percent haircut. They said the high credit quality of lessees and the cash flow generated by leases over time should help the bonds.
The leasing deal isn't Tesla's first trip to the ABS market. The company began offering bonds backed by residential solar contracts last year after acquiring SolarCity. It last tapped that market for $131 million in December, and is the most frequent issuer there.
Citigroup Inc. and Deutsche Bank Group AG are managing the auto leasing sale, the person said.
For more on Tesla, check out the Decrypted podcast:
— With assistance by Dana Hull, and Brian Eckhouse
Before it's here, it's on the Bloomberg Terminal.
LEARN MORE