Macron, Rihanna to Meet in Senegal to Push Children's Education
By and
The president and the music mega star will meet in Senegal

Rihanna seeks backing from Macron for her education charity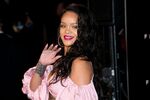 France is tapping the Rihanna effect -- again.
President Emmanuel Macron is meeting the music mega star in Senegal this week to promote children's education. With Africa one of his biggest foreign policy focuses -- this will be his sixth trip to the continent since his May 2017 election -- the 40-year-old president is riding Rihanna's coattails to both push for more money for young girls' education and to help him carry his message on climate, immigration and the fight against terrorism.

It won't be the first time Rihanna has helped a French enterprise. LVMH's chief executive officer and France's richest man, Bernard Arnault, worked with Rihanna on ad campaigns and a collection of sunglasses for Christian Dior Couture. She has also given rival French luxury group Kering a boost by endorsing German sportswear property Puma, helping its turnaround. Filmmaker Luc Besson gave her a featured role in the sci-fi extravaganza Valerian--the most expensive French production ever.
For all that, a question to a Macron aide on Monday about the Rihanna leg of the president's two-day Senegal trip drew disdain.
"I'm happy we're getting to the fundamentals," the aide, who can't be identified in line with Elysee Palace policy, said during a briefing organized before Macron's trip to participate in the Global Partnership for Education conference.
Supporting Causes
The Elysee palace official sought to smooth things by noting that Rihanna "won't limit herself to just showing up at a conference and is likely to make a symbolic visit to a school" and that she has "greatly" contributed to the fundraising for the project.
Rihanna and Macron will meet in Dakar on Friday with schoolchildren, the president's office said. An email sent to Rihanna's Clara Lionel Foundation office drew no response. The Elysee palace didn't respond to a message for more details about the meeting.
The interests of the two coincide in the Africa project. The 29-year-old pop star has been looking for backing for her education-geared charity. She reached out to Macron via Twitter last June. "Bonjour @Emmanuel Macron, will France commit to #FundEducation?" she asked.
Macron responded. The president and his wife Brigitte Macron met with Rihanna in July to discuss education. The image of them laughing in a salon of the presidential palace got "likes" from about 1.6 million people on Instagram.
Rihanna's Clout
The Barbados-born singer and activist carries enormous clout. She has more than 86 million twitter followers compared with 2.68 million for Macron; 81 million Facebook likes to the president's 2.05 million and about 60 million Instagram followers -- about as many as France's population.
LVMH's Arnault is not coy about the "Diamonds" singer's contributions. He praised her when he was presenting record results for his company last week. Sephora- and Dior Perfumes-owner LVMH partnered with Rihanna to develop her makeup line Fenty Beauty.
"The product has been a formidable success with sales in the hundreds of millions in the first month," Arnault said. "It's something never before seen as we were starting from zero." He referred to Rihanna as "celebrissime."
Before it's here, it's on the Bloomberg Terminal.
LEARN MORE