business
Noble Group Shares Yo-Yo on Debt Deal
By , , and
Stock in Singapore pares decline after plummeting 23% at open

Commodity trader plans debt-for-equity swap with creditors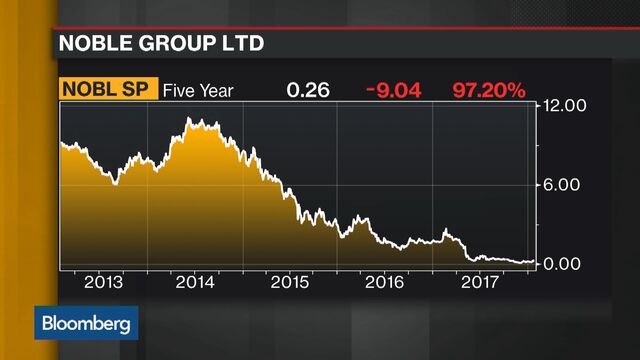 Noble Group Ltd. investors weighed up the company's proposed restructuring in which creditors will take control of the trader through a debt-for-equity swap, with bonds rising and the shares paring a steep, initial drop.
The stock sank as much as 23 percent to 20 Singapore cents, before recovering some of that dive to trade 9.6 percent lower at 23.5 cents at 2:44 p.m. The shares are up 17.5 percent this year after an 88 percent rout in 2017.

"The dark cloud over this stock all along has been the viability, to be able to withstand debt payments and engage creditors or customers," Nicholas Teo, a trading strategist at KGI Securities (Singapore) Pte, said by phone. "From the deal, it seems that they've managed to do that."
Perpetual holders seen getting raw deal and consent can't be taken for granted.
The Hong Kong-based trader announced the deal to restructure $3.5 billion in debt on Monday, averting bankruptcy. After a three-year crisis marked by losses, writedowns and controversial accounting, the agreement will see half of that debt -- about $1.7 billion -- switched into new equity. If approved, creditors will be handed 70 percent of the shares, while management obtains as much as 20 percent and current shareholders, including founder Richard Elman and China's sovereign wealth fund, get just 10 percent.
"The company itself isn't going to zero," Teo said. "That would have been the other alternative."
Rump Business
While saving the company from complete failure, the planned deal, which follows a the fire-sale of its oil and gas business in recent months in an effort to raise cash, will transform what was once a challenger to global trading giants such as Glencore Plc to a rump business focused on coal in Asia. Noble Group now needs to seek approval from all the parties involved in the deal, including shareholders, a process that could take as long as five months.
The 2020 notes jumped 6.3 cents on the dollar to 55.9 cents, the highest since May, according to Bloomberg-compiled prices. The 2022s increased 7.4 cents to 55.8 cents, while the notes due in 2018 gained 4 cents to 55.8. The perpetual bond gained 0.5 cent to 5.4 cents after plunging 7.5 cents Monday. 
"The percentage of equity that the management and existing shareholders have been able to obtain through negotiations is unusually high," Independent Credit Research LLC founder Stan Manoukian said in a research update. That's because "the alternative would have been to have the value of equity equal to zero for both the existing creditors and the shareholders."
"Perpetual and existing equity holders appear to be treated harshly," said Todd Schubert, head of fixed-income research at Bank of Singapore Ltd. "But in an efficient risk/reward capital markets this is not an unexpected outcome given their lower position on the capital structure and higher expected returns."
Before it's here, it's on the Bloomberg Terminal.
LEARN MORE