Guggenheim's Anne Walsh Sees Liquidity Mismatch in Passive Bond Funds
By and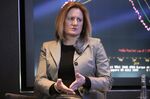 The lack of liquidity in some bond exchange-traded funds could result in investors getting burned in a market downturn, according to Anne Walsh, who oversees $189 billion in fixed-income assets at Guggenheim Partners' investment unit.
"We have some disconnections that potentially could put risk into the portfolio, or into the market, in the future," Walsh said Tuesday at an event for women in the asset-management industry. "This is an area that needs some additional time and attention from investors."
Walsh specifically targeted ETFs tied to direct lending and bank loans. "You have a very liquid instrument in the form of an ETF, which gives you daily liquidity and daily pricing, backed by an asset class that takes three weeks to trade," she said at the New York event held by DAI Partners.
ETFs with links to corporate debt have experienced outflows in recent weeks, suggesting a downturn in demand even as the underlying spreads have been among the tightest on record. Allianz SE Chief Economic Adviser Mohamed El-Erian, a Bloomberg View columnist, raised a similar concern last week, and said some ETFs "have inadvertently over-promised liquidity."
Yana Barton, a portfolio manager at Eaton Vance Management, said similar issues are at play in equity markets, with the volatility of underlying stock prices not matching the ETF valuations. Investors are underestimating volatility because of all-time lows in the VIX, a gauge of market fluctuation, she said.
"It's really difficult to answer the question, 'Is it the price that's driving the flows, or is it the flow that's driving the price?'" she said. That could lead to an "emotional roller coaster that you get signed up for that you didn't think you were part of."
— With assistance by Hema Parmar, Molly Smith, and Amanda Albright
Before it's here, it's on the Bloomberg Terminal.
LEARN MORE