EPA Chief Disavows Calling Trump a Danger in 2016 Interview
By
Scott Pruitt called Trump 'abusive to the Constitution'

Radio interview from February 2016 cited at Senate hearing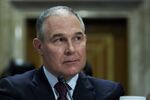 Environmental Protection Agency Administrator Scott Pruitt said he doesn't remember saying President Donald Trump "would be more abusive to the Constitution than Barack Obama" during a 2016 radio interview that surfaced Tuesday.
"I don't echo that today at all," Pruitt told a Senate committee, as he fielded questions about the Feb. 4, 2016 interview with Tulsa's Pat Campbell Show. Asked if he could recall the exchange, Pruitt said: "I don't."
The interview, released by an advocacy group and first reported by the Washington Post on Tuesday, features Pruitt opining on Trump's presidential candidacy. At the time, Pruitt was Oklahoma's attorney general and was advising one of Trump's Republican challengers for the presidency, Jeb Bush.
"I believe that Donald Trump in the White House would be more abusive to the Constitution than Barack Obama -- and that's saying a lot," Pruitt said during the 2016 interview. "He would use a blunt instrument," Pruitt said of Trump, adding that by contrast, Obama "at least tries to nuance his unlawfulness."
During the interview, Pruitt also agreed with Campbell's description of Trump as "dangerous" and "a bully." When Campbell asserted that "everything that we loathe and detest about Barack Obama and the abuses of power, Donald Trump is the same thing -- except he's our bully."
"That's right," Pruitt replied in the interview. Campbell observed that his father had described Trump as "dangerous." Pruitt replied: "You know, your dad is very astute."
Pruitt sat stoically Tuesday as Senator Sheldon Whitehouse, a Democrat from Rhode Island, read the comments aloud. Behind Whitehouse, a Senate aide hoisted posters reiterating Pruitt's words.
Pruitt did not elaborate on his views at the hearing Tuesday. And the EPA chief ignored shouted questions as he left the hearing room on his way to an unrelated meeting at the White House. But Pruitt heaped praise on Trump in a statement sent later by the EPA.
"After meeting him, and now having the honor of working for him, it is abundantly clear that President Trump is the most consequential leader of our time," Pruitt said. "No one has done more to advance the rule of law than President Trump."
Whitehouse suggested the EPA administrator's 2016 remarks put him in league with many Americans: "Millions of people share your concerns of Feb. 4, 2016, about a president who you believed then would be abusive to the Constitution, a bully and dangerous."
Before it's here, it's on the Bloomberg Terminal.
LEARN MORE