Carney Says Cryptocurrency Transactions Shouldn't Be Anonymous
By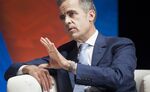 Bank of England Governor Mark Carney said cryptocurrency payments are often used for money laundering or other illicit activity and he's against users having their identities kept secret from authorities.
Carney, who also chairs the global Financial Stability Board, said he wasn't talking about investors who are buying digital currencies such as bitcoin to speculate on increases in value.
"A lot of the underlying use for these currencies has been illicit activity, particularly money laundering," he told a committee of lawmakers in the U.K. Parliament on Tuesday. Anonymity means you are "potentially closing a chain which at somewhere along it had some illicit activity. One doesn't have anonymity for bank account transactions, why would you for cryptocurrency transactions?"
Read more: Bloomberg Quicktake on cryptocurrency security
He said there is concern among international regulators about the use of digital currencies and he expects it to be on the agenda at upcoming G20 meetings. But he also highlighted the "huge range of opportunities" presented by the underlying technology, a view he's shared before in relation to payment systems.
"At the G-20 level, we face some decisions in the future about to what extent should cryptocurrencies in general -- and bitcoin is included in that -- should they be integrated into the formal financial system," he said. "How easy should it be to convert bitcoin into sterling or dollars."
Before it's here, it's on the Bloomberg Terminal.
LEARN MORE