markets
Capitec Wins Support From Regulator as Short Seller Sinks Stock
By , , and
Lender's shares pare record losses as loan-policies questioned

Avior analyst Harry Botha says parts of Viceroy report flawed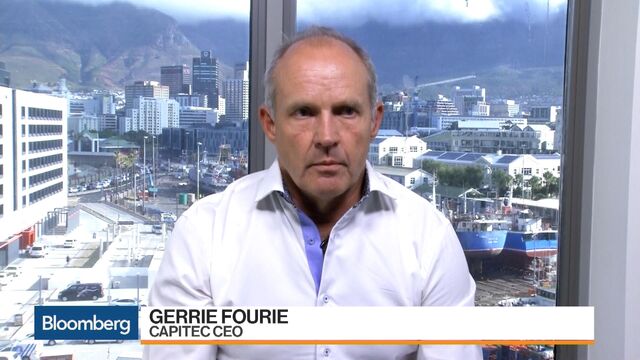 South Africa's central bank said Capitec Bank Holdings Ltd. has enough capital and liquidity buffers to survive shocks after a short seller accused the lender of concealing losses, claims the company denied. The shares pared a record decline.
Viceroy Research said in a report that the lender may have to write down its loan book by 11 billion rand ($920 million) -- equivalent to 14 percent of the bank's assets -- to "more accurately represent delinquencies and risk." Capitec, which makes unsecured loans mainly to low- and middle-income households and takes deposits, said the report is filled with "factual errors, material omissions" and that Viceroy never approached it for clarity.
"According to all the information available, Capitec is solvent, well-capitalized and has adequate liquidity," the Pretoria-based South African Reserve Bank said in an emailed statement on Tuesday, without elaborating. "The bank meets all prudential requirements."
The Reserve Bank's response seems to validate Capitec, Viceroy said on its Twitter account, which isn't verified. "Our research suggests that Capitec data is flawed, and we believe accounts cannot be relied upon. We believe an investigation, at a minimum, is warranted," it said.
Viceroy had made a short bet on Capitec's stock, meaning it would profit from a decline in the share price, founder Fraser Perring said in an interview with Bloomberg TV on Tuesday. Viceroy operated anonymously until earlier this month, when Perring revealed himself and two colleagues -- Gabriel Bernarde and Aidan Lau -- as the faces behind the firm. Perring, 44, was a U.K. social worker before turning to shorting stocks on a full-time basis in 2012.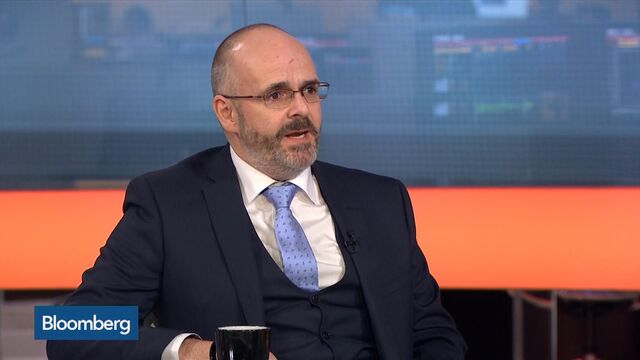 Shares of Capitec fell as much as 25 percent, the most on record, before paring losses to trade 6.7 percent down at 880.50 rand as of 4:03 p.m. in Johannesburg. The securities declined 4.1 percent on Friday and 8 percent Monday. Before the selloff, the stock had risen about 30-fold since 2008. Share volumes in Capitec rose to the highest since May 2015.
'Lacks Merit'
The decline in the stock is overdone and might be a buying opportunity, said Harry Botha, an analyst at Avior Capital Markets, a South African brokerage that covers more than 100 local shares as well as other sub-Saharan African stocks. Botha, who has been tracking the stock since 2011, has an underperform rating on Capitec.  
While "it is too early to completely dismiss Viceroy's claims, in our view the report lacks merit," he said, adding that some of the points are flawed, sensationalist and "might undermine confidence in Capitec, trying to place pressure on its sustainability."
Viceroy's claim that Capitec is contravening the National Credit Act by refinancing loans to customers in delinquency appears to be incorrect because the practice of restructuring is permissible under the National Credit Act, Botha said. Capitec managed to navigate through rival African Bank Investments Ltd.'s collapse in 2014 and stood up to heightened examination at the time, he said.
'Thin on Details'
Capitec is the second South African company to come under scrutiny from Viceroy, which highlighted concerns with the accounting policies of retail giant Steinhoff International Holdings NV in December. Its report came less than a day after the company announced an investigation into its finances that led to the resignation of its chief executive officer and chairman. The stock slumped more than 80 percent in the wake of Steinhoff's announcement.
"The market will overreact to any report put out by Viceroy given that they struck gold with Steinhoff," said Magda Wierzycka, chief executive officer of Sygnia Ltd., a Cape Town-based asset manager. "The difference between this report and the Steinhoff report was that this report is really thin on details and hence far less reliable. If the information proves groundless, then you might have Viceroy facing charges of share price manipulation. Never mind defamation from Capitec."
Click here to read how Viceroy targeted Capitec
South Africa's Financial Services Board, which oversees listed stocks, is considering Viceroy's report and the trading that has taken place, the Pretoria-based FSB's head of market abuse Solly Keetse said by phone on Tuesday. It will take time to assess the content of the report and its impact on the market, he said.
'Knows Nothing'
"It's very surprising that someone writes a report who knows nothing about us," Andre du Plessis, Capitec's chief financial officer, said in an interview. "There's a total lack of understanding of what we do."
The report from Viceroy is "impressive and thorough," said Adrian Saville, chief strategist at Cannon Asset Managers in Johannesburg, which doesn't own Capitec stock. "It can't be my place to speak for any regulator, but Viceroy needs to be held to account for any research it releases, just as Capitec needs to be held to account for its business practices."
Founded in 1999, Capitec has become South Africa's sixth-biggest publicly traded bank by assets, increasingly competing against the largest financial institutions as it branches into consumer banking. Capitec's largest owner, with a stake of more than 30 percent, is investment firm PSG Group Ltd. Jannie Mouton, once chairman of Capitec, founded PSG. Steinhoff was the second-biggest shareholder in PSG until last week, when it cut its shareholding to 2.5 percent from 16 percent. PSG's shares slid as much as 24 percent before paring losses.
The company has "absolutely" no plans to take any additional writedowns because it already does a detailed analysis of its book at a weekly credit committee, the CFO said. "If any portion of any loan is missed the provisioning percentages are fully disclosed in our financial statements. Loans are written off at 90 days," Du Plessis said.
— With assistance by Loni Prinsloo, Guy Johnson, and Matthew Miller
Before it's here, it's on the Bloomberg Terminal.
LEARN MORE