Capitec Bank Drops After Viceroy Casts Doubt Over Its Finances
By and
Short seller says bank may be concealing losses on loans

Stocks that had been speculated to be Viceroy's target gain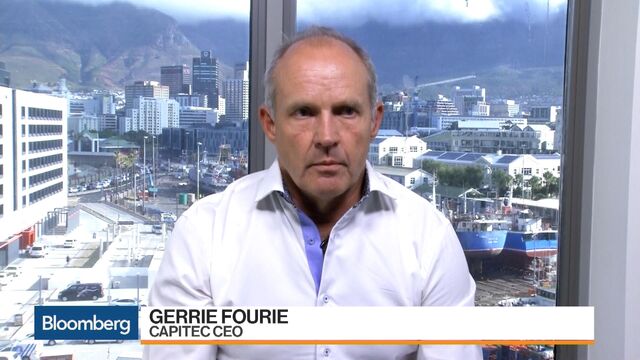 Capitec Bank Holdings Ltd. shares lost as much as a fourth of their value after short-seller Viceroy Research said the lender may be concealing losses.
The Stellenbosch, South Africa-based bank's stock dropped the most on record to 705 rand, as the volume of trades soared to the highest since 2015. PSG Group Ltd., the bank's biggest shareholder, sank as much as 24 percent and the FTSE/JSE Africa All Share Index was set for the biggest loss in more than a year.

Viceroy, which wrote a damning report about accounting irregularities at Steinhoff International Holdings NV, said the bank may have been refinancing loans that customers were unable to repay. The revelations come less than two months after Steinhoff lost about 80 percent of its value amid an investigation into its finances.
Read More: Short Seller Who Rode Steinhoff Drop Finds Target in Capitec
The Pretoria-based central bank said that based on the information available, the lender meets all "prudential requirements," and Capitec Chief Financial Officer Andre du Plessis called the allegations unfounded.
Viceroy "basically labeled Capitec as a loan shark, with massively understated defaults masquerading as a community micro-finance provider," Michele Santangelo, a money manager at Independent Securities, said by phone. "None of the analysts who cover Capitec or PSG have even pulled any of these or seen any of these red flags, so it's going to be interesting to go through the report in more detail and see if everything can be substantiated."
Read More: What Analysts Are Saying About Viceroy's Report on Capitec Bank
Loan Book
Capitec, whose customers are mainly low- and middle-income households, may have to write down its loan book by 11 billion rand ($925 million) -- equivalent to about 14 percent of the bank's assets -- to "more accurately represent delinquencies and risk," the Viceroy report said.
The bank's shares pared its loss to 6.8 percent as of 1:30 p.m. in Johannesburg. PSG fell 9.1 percent, while an index of South African banking stocks slipped 2.4 percent, set for the biggest three-day retreat since May 2016
"The interesting part is that the other shares that the market suspected were targets of Viceroy, like Aspen and Resilient, are bouncing back strongly, because the market's seeing that it's not these guys, it's someone else," said Peter Takaendesa, a money manager at Mergence Investment Managers in Cape Town.
Resilient REIT Ltd. rose as much as 14 percent, before paring the gain to 1.1 percent. Greenbay Properties Ltd. climbed 3.2 percent. Aspen Pharmacare Holdings Ltd. advanced 6.2 percent.
Before it's here, it's on the Bloomberg Terminal.
LEARN MORE