markets
Blackstone Set for Biggest Bet in Decade on Thomson Reuters Data
By , , and
Deal valued at $17 billion would be biggest since crisis

Firm said to see growth in data feed, FX, treasury functions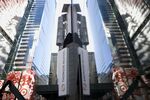 Blackstone Group LP's potential acquisition of part of Thomson Reuters Corp. would be the biggest bet by the asset manager since the global financial crisis, boosting its presence in the $27 billion-a-year industry for financial information.
The U.S. firm is in talks to buy a 55 percent stake in the Thomson Reuters unit that provides data, analytics and trading to Wall Street and financial professionals around the world, according to people with knowledge of the matter. The unit, which doesn't include the news-gathering operations, would be valued at about $20 billion including debt, the people said, asking not to be identified because the details are confidential. Blackstone's contribution of equity and borrowings would be about $17 billion, one of the people said.
Blackstone sees attractive growth in the Thomson Reuters unit's data feed, its foreign exchange and treasury trading platforms, as well as its risk and compliance business, according to a person familiar with the matter. The division could also improve operations more quickly as a private company, the person said. The unit accounted for more than half of adjusted earnings before interest, taxes, depreciation and amortization in 2016.
Thomson Reuters shares rose 9.5 percent at 10:41 a.m. in New York trading to $47.58, valuing the company at about $34 billion.
Attractive, Defensive
"Data and analytics are an attractive, fairly defensive business area," said Alex DeGroote, an analyst at Cenkos Securities in London. "Blackstone already has ownership of Ipreo, so is familiar with this vertical. Together Blackstone and TR can commit capital to growing this business."
Alongside Goldman Sachs Group Inc.'s merchant-banking arm, Blackstone acquired financial-technology firm Ipreo Holdings LLC for $975 million in 2014.
The discussions center on Thomson Reuters' financial and risk division, which had $6.1 billion in revenue in 2016, according to a statement late Monday from Toronto-based Thomson Reuters. Controlled by one of Canada's richest families, Thomson Reuters would cede its flagship Eikon terminal business while keeping the news operations, as well as ownership of its legal, tax and accounting arm. The discussions may not lead to an agreement, according to the statement.
Blackstone declined to comment.
The board of Thomson Reuters is expected to meet Tuesday to discuss the potential transaction, a separate person with knowledge of the matter said.
Bloomberg LP, the parent company of Bloomberg News, competes with Thomson Reuters in providing news, data and information to the financial industry. Peter Grauer, chairman of Bloomberg LP, is a non-executive director at Blackstone.
While Blackstone is no stranger to large deals, an agreement with Thomson Reuters would mark the firm's biggest check since the global financial crisis. Pre-crisis, Blackstone's acquisitions included:
Equity Office Properties Trust for $34.1 billion in 2007
Hilton Worldwide for $26.2 billion in 2007, as part of a consortium
Freescale Semiconductor for $17.6 billion in 2006, with a group of buyers
In the decade since many of the world's biggest financial institutions had to be bailed out, Blackstone has been more circumspect in its investments. Its largest transactions include:
Bradford & Bingley Plc's loan assets for $14.8 billion in 2017, with a consortium
Centro Properties Group's shopping centers in the U.S. for $9 billion in 2011
Operations at Blackstone, which had about $387 billion in assets under management at the end of September, include a $102 billion private equity unit, a real estate division, a hedge fund business and a portfolio of credit assets.
The Thomson Reuters deal would be done by Blackstone's private equity unit, which is in the process of deploying an $18 billion fund. Any transaction would add to the $105 billion of private equity deals targeting the media and technology industries over the past 12 months, according to data compiled by Bloomberg.
— With assistance by Rebecca Penty, Chitra Somayaji, and Scott Deveau
Before it's here, it's on the Bloomberg Terminal.
LEARN MORE