Alibaba's a Lot Cheaper Than Tencent and May Get Cheaper Still
By
Analysts expect slowest revenue growth in six quarters

Alibaba already trades at a discount to its Chinese rival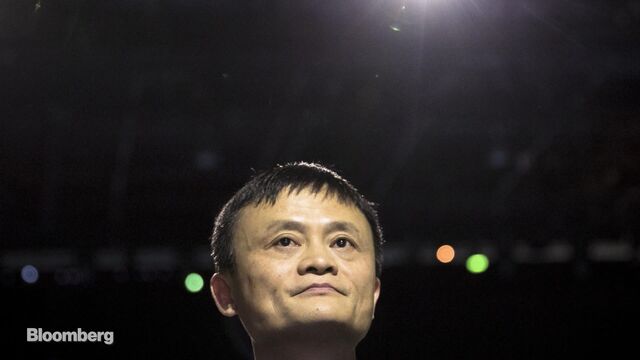 When it comes to picking between China's internet duopoly, investors are starting to give Alibaba Group Holding Ltd. the cold shoulder.
Tencent Holdings Ltd. and Alibaba -- the twin faces of an unprecedented technology boom -- dominate their country's consumer internet and had been neck-and-neck in market value through much of 2017. Then Tencent abruptly revved ahead in December, buoyed by a bulging pipeline of hit games. At the same time, investors grew cautious about Alibaba's ability to keep up its stellar pace of growth.
The e-commerce giant now trades at a near-30 percent discount to its fiercest rival for internet supremacy. The stock hovering around 30 times its average blended earnings estimate as of Monday -- on par with the industry's global average but well below Tencent's 41 times. That's in part because investors are bracing for Alibaba to report its slowest revenue growth in six quarters Thursday.
Tencent went gangbusters in 2017, gaining $261 billion in market value by dint of its growing social media and gaming heft. Meanwhile, billionaire Jack Ma's increasingly steered Alibaba away from an asset-light model, splurging at least $13 billion since 2015 on acquisitions of brick-and-mortar companies in industries from logistics and autos to retail. It's folding loss-making delivery affiliate Cainiao into the company's results this quarter. And its content bills are skyrocketing in an effort to catch Tencent in music and video.
"People would prefer Tencent's business model for now as it has been diversifying its business and going into new sectors," said Louis Tse, managing director of Hong Kong-based VC Brokerage Ltd. which invests in Tencent on behalf of clients. "Alibaba on the other hand, we've not seen action the way we've wanted."
Shares in Alibaba slid 1.7 percent in New York, while Tencent rose as much as 1.4 percent in Hong Kong Wednesday.

The Hangzhou-based company's revenue is expected to grow 49.7 percent, down from consistently 54 percent or more since mid-2016. The deceleration is more pronounced in net income, projected to rise 22 percent after doubling in each of the past three quarters. Much of that stems from showering checks on supermarkets and grocery stores: a 36 percent stake in Sun Art Retail Group, an 18 percent slice of Lianhua Supermarket Holdings Co. and 32 percent of Sanjiang Shopping Club Co., just to name a few deals. It's also invested heavily in department stores including Intime Retail Group.
Alibaba's "momentum may take a pause in 2018," analysts at China Renaissance Securities Inc. led by Ella Ji wrote in a research note. "Investment and exploration of new retail models should continue to overhang its 2018 margins, together with drags from Cainiao and elevated traffic acquisition cost and content cost."

Tencent's been following Alibaba's foray into the physical world -- albeit at a more restrained pace. It's in discussions to invest in Carrefour SA's China unit, and took 5 percent of Yonghui Superstores Co. More importantly, it's locking in and extending a lead in games, music and online books, and may reap a windfall from floating several divisions or affiliates in 2018. E-books outfit China Literature Ltd. gained a value of almost $12 billion on its debut, while Tencent Music is one of the most anticipated IPOs in Hong Kong this year.
Some investors however warn that Tencent's looking lofty. It's trading at an unusually high 58 percent premium to the average blended price-earnings ratio of its global peers. And it's just a whisker off the 12-month price target of analysts, while Alibaba's still got 10.5 percent to go to hit its envisioned level.
"A lot of investors might want to take a look at the results first to see if the company lived up to expectations," Tse cautions. "Tencent could take a breather around the Lunar New Year. It's the holidays, there's bound to be profit taking."
Before it's here, it's on the Bloomberg Terminal.
LEARN MORE