politics
'We Made It Up': Trying in Vain to Count the Puerto Rico Exodus
By and
Investors seek the number everyone needs and nobody knows

Governments and academics theorize as residents pour out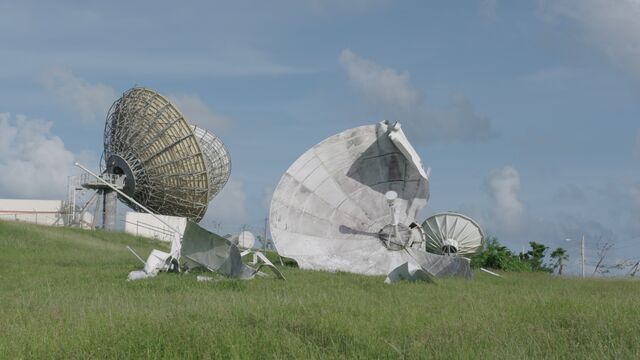 It's the number everyone needs to know: How many Puerto Ricans will be left in Puerto Rico?
Before Hurricane Maria struck four months ago, 3.3 million people lived on the bankrupt island. Now, so many have left that it's impossible to count. In its first detailed projections, the commonwealth last week forecast that its population would shrink by 600,000 in the five fiscal years after the Sept. 20 landfall. Officials declined to show their work, except to say that they adopted a consultant's independent projections.

An accurate headcount underpins Puerto Rico's outlook on everything from how many power poles and teachers it needs to how much of its $74 billion of debt is repaid. Wall Street financiers, mainland politicians and the control board installed ahead of the bankruptcy are scrutinizing all assumptions.
"Any investor who takes Puerto Rico at its word clearly hasn't learned their lesson," said Dora Lee, vice president at Belle Haven Investments, which manages $6.5 billion of municipal bonds. "You have to do your homework on Puerto Rico by yourself and not rely solely on what they're putting out."
Those with the most at stake are reduced to guesswork.
In Florida, where migrants are taxing services, schools and housing, representatives of the governor's office and state lawmakers met in a Tallahassee conference room last month to debate the number to incorporate into official projections.

An aide to Governor Rick Scott projected during the videotaped meeting that as many as 230,000 Puerto Ricans would settle in the state through the end of 2018, a figure arrived at by assuming most arriving air passengers would stay permanently.
"You may ask, 'How did you come up with 60 percent?" said Clyde Diao, a deputy policy coordinator. "I think 60 percent is a very conservative estimate, considering the number of people that are coming here now."
"We made it up," another voice said, cutting him off.
"Yeah, I mean that's basically what it is," Diao said to laughter.
Typically, a state or business would turn to the U.S. Census Bureau for enlightenment, but it doesn't work quickly enough. The next population estimate that would capture the disaster's effect won't be released until year-end. The agency is developing an "adjusted methodology" to capture the impact, said spokeswoman Kristina Barrett.

Still, what Census data exist are helping academics hunting for the number.
An October study by Edwin Melendez and Jennifer Hinojosa of Hunter College's Center for Puerto Rican Studies used Census Bureau numbers to analyze the demographics of migrants to the mainland through 2016. They extrapolated that the flow could total 470,335 through 2019.
The academics are using another set of numbers to test that assumption: school enrollment. Puerto Rico's Education Department said it may have lost 26,674 students since the storm, 7.7 percent of enrollment, based on transcripts requested by parents to register children elsewhere. A Bloomberg survey accounted for the mainland registration of at least 20,640 new Puerto Rican students in the period, though major destinations such as New Jersey and Texas declined or couldn't provide figures. Pennsylvania got 2,596 and New York 2,050. Florida alone reported 11,034 new Puerto Rican students.
The Orange County school district in Florida, which includes migration magnet Orlando, has an in-house demographer, but traditionally changes in the student body happen during the summer, said spokesman Scott Howat.
"It usually doesn't happen between October and January," he said. "So that's a challenge."
Many numbers that emanate from Puerto Rico's government have been suspect. Before Maria, its population was shrinking faster than any state, declining 2 percent annually from 2014 to 2016. Census Bureau projections showed it contracting another 1.5 percent per year in the decade thereafter. Yet the commonwealth's fiscal plan before Maria projected just 0.2 percent annual drops through 2026.
The new plan presented last week relied on a presentation to the federal fiscal control board by migration blogger Lyman Stone, an adviser for consulting firm Demographic Intelligence, which lists clients including JPMorgan Chase & Co. and Pfizer Inc. The board invited Stone to its San Juan "listening session" on Nov. 16, when it heard from private experts on the fiscal outlook.

Stone, whose day job is being a U.S. Department of Agriculture economist in Washington, said last week he hadn't been hired by Governor Ricardo Rossello's government. Ivan Caraballo, a spokesman for Puerto Rico's fiscal agency, didn't respond to questions about why it used Stone's assumptions.
Stone assumed that the population would shrink by 587,943 in the five years after Maria, according to a version of the presentation posted the next day. He said the figure considered existing migration and fertility trends, and he tacked on an additional 220,000 extra net emigrants due to Maria.
Subsequent analyses, Stone said Monday, more or less confirm the outlook, based in part on air-traffic data that has since become available. His new five-year forecast is 583,000.
Most agree that the long-run outlook is dire, even if they quibble about the degree. Stone's November report put the population around 1.9 million by 2060, meaning it would decline more than a third. A stronger-than-expected "Maria effect" or another major hurricane could bring it down to around 1.5 million, he said.
Lee, the Belle Haven investor, said she always expects Puerto Rican officials to revise their original estimates -- and the revision is almost always down. In the meantime, she's listening to everyone.
"The best you can do is take whatever you can," Lee said.
— With assistance by Mc Nelly Torres, Zachary Hansen, and Michelle Kaske
Before it's here, it's on the Bloomberg Terminal.
LEARN MORE