Fusion GPS Says Grassley Put Its Workers in Danger
By
Employees were named on Senate committee website, lawyers say

Senator will not be deterred by 'diversion,' spokesman vows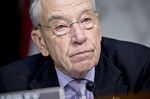 The research firm that produced the so-called Trump dossier during the 2016 election is accusing Senate Judiciary Committee Chairman Chuck Grassley of "knowingly" putting some of its employees in danger and wants the Ethics Committee to investigate.
In a letter Monday, lawyers for the Washington-based Fusion GPS lashed out at Grassley, an Iowa Republican, for ignoring "well founded concerns" they said they had previously raised regarding the safety of those employees, should their names, and others, become public.
Yet, they say, those names were included in six letters posted on the committee's website last week.
"We have explained to your staff on multiple occasions that Fusion GPS has received threats to its company, its property and its employees, and that counsel has reported these matters twice to the police," wrote three lawyers representing Fusion.
"Ignoring our requests, your office knowingly put these people in danger, by releasing their names to the public in your January 26 letters," the lawyers wrote. "These leaks are unauthorized and unethical."
A Grassley spokesman, Taylor Foy, said in an email Tuesday that the senator never identified Fusion GPS employees but that the letter sent by Fusion lawyers, including Josh Levy, did.
"Senator Grassley's letter did not identify any individual as an employee of Fusion GPS," Foy wrote. "The only indication that individuals referenced in Sen. Grassley's letter work for Fusion GPS come from Mr. Levy's own complaint."
Foy said the firm's complaint "contains a number of inaccuracies that misrepresent the facts." He added that Grassley "will not be deterred by lawyers attempting to create a diversion from their own stonewalling by filing frivolous and baseless complaints." He said Levy and Fusion have stalled in complying with a document request that Grassley and top committee Democrat Dianne Feinstein made last year.
The Fusion lawyers' letter adds that they "expect" Grassley to conduct an internal investigation of this matter within his office, and that, "likewise, we are copying the chair and ranking member of the Senate Ethics Committee, whom we expect will investigate the matter themselves."
Fusion is the firm that produced the now-famous opposition research dossier, which was authored by former British spy Christopher Steele. Republicans in both the Senate and the House have charged that the dossier, including its unverified contents, was misused by the Federal Bureau of Investigation and the Justice Department to obtain surveillance warrants against Trump associates in 2016.
Before it's here, it's on the Bloomberg Terminal.
LEARN MORE