U.K.'s May Flies 50 Business Leaders to China on Brexit Trade Mission
Bloomberg News
May hopes to put political trouble aside on three-day visit

Prime minister hails 'golden era' of U.K.-China relations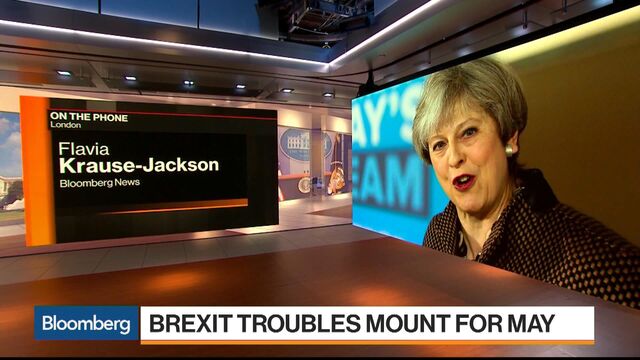 Follow @Brexit on Twitter, join our Facebook group and sign up to our Brexit Bulletin.
Prime Minister Theresa May will lead the largest business delegation her government has ever taken overseas when she flies to China on Tuesday, as she seeks to put her Brexit troubles aside and make progress on boosting U.K. trade.
May will take 50 business leaders -- from sectors including financial services, healthcare, energy and infrastructure -- on the three-day trip to Wuhan, Beijing and Shanghai.
The trip comes against a backdrop of tension between May's government and the Chinese, a record she's keen to improve upon as the U.K. looks for trade partners around the world as it prepares to leave the European Union next year. The prime minister is also battling to contain divisions within her governing Conservative party over the direction of her Brexit policy, amid reports some lawmakers are plotting to oust her.
'Frank Discussions'
After May took over from David Cameron as Tory leader in 2016, she paused China's involvement in the Hinkley Point nuclear reactor development, amid concern over involving the Chinese government in critical, security-sensitive infrastructure. May eventually approved the project after China's ambassador in London warned the decision represented a "critical historical junction" in the bilateral relationship.
"My visit will intensify the 'Golden Era' in U.K.-China relations," May said ahead of her visit. "The depth of our relationship means we can have frank discussions on all issues."
On the trip, May will be accompanied by her husband, Philip May, which her office said shows the premier's commitment to strengthening ties with China. The Mays will watch some traditional opera and President Xi Jinping and his wife, Madame Peng Liyuan, will host the couple for a tea ceremony during their trip.
'Opportunities,' Caution
"There are huge trade opportunities in China that we want to help British businesses take advantage of," May said. "That is why I'm taking a large multi-sector business delegation with me, representing all corners of the U.K. and sectors in which the U.K. excels."
May's trip is the second time she's visited China since becoming prime minister. The International Trade Secretary Liam Fox is formally heading up the business delegation.
May's office said that she'll be able to raise issues such as security concerns over North Korea's nuclear program, and human rights issues, during meetings with the Chinese government.
To read more about China's trade and infrastructure ambitions, click here
In a statement, the China Foreign Ministry expressed a cautious tone on the trip.
It said it expected to improve political trust between two countries during May's visit. May's meetings will show whether the U.K. has achieved its previously stated goal of becoming China's closest partner among Western countries, the ministry said. While China is willing to discuss human rights with other countries, the conversations must be based on equality and mutual respect, the ministry said in response to the question.
There are reported to have been tensions over the U.K.'s refusal publicly to endorse the Belt and Road Initiative, China's major international infrastructure investment plan. May's office said it was "vital" that the "impressive" project meets international standards, adding that she looked forward to discussing it with the Chinese government.
Human rights issues "should not impact our economic cooperation," said Wang Yiwei, director of Renmin University's Institute of International Affairs in Beijing and a former Chinese diplomat based in Brussels. "Now it is not just the West as a teacher bashing China: There are many human rights problems in the U.K. such as populism, nationalism and discrimination."
The business delegation list includes Pascal Soriot, chief executive officer of AstraZeneca; Mark E. Tucker, Chairman, HSBC Holdings plc; Ralf Speth, CEO, Jaguar Land Rover; Bill Winters, Group Chief Executive, Standard Chartered Bank; Gerry Grimstone, Chairman, Standard Life Aberdeen plc; and Nikhil Rathi, CEO, London Stock Exchange Group.
— With assistance by Tim Ross, Peter Martin, and Belinda Cao
Before it's here, it's on the Bloomberg Terminal.
LEARN MORE