politics
Trump Policies Threaten Economic Progress, Indonesia Finance Minister Says
By
Indonesian finance minister warns against protectionist stance

U.S. should see benefit of trade with Indonesia: minister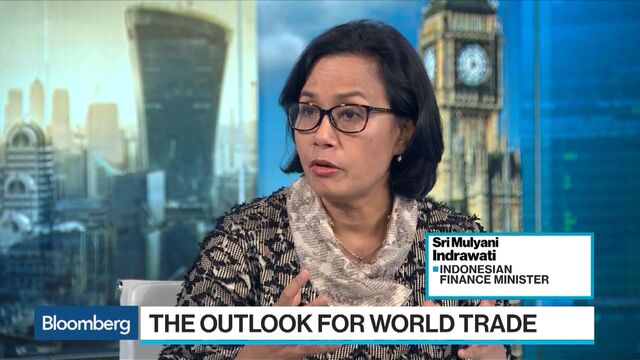 U.S. President Donald Trump's protectionist trade policies are raising concerns of a potential setback to three decades of global economic progress, according to Indonesia's Finance Minister Sri Mulyani Indrawati.
"Globally we have to recognize that openness and global trade is actually helping a lot of countries to have a shared prosperity and reduce poverty," Indrawati said in a Bloomberg Television interview in London on Monday. "The current protectionist language is definitely going to create concern about whether globally there will be a setback in the progress that has been made over the past three decades."
Signs of a new era of American protectionism under Trump were underscored this month when his government slapped tariffs on imported solar panels and washing machines. While Trump said last Friday that U.S. economic growth promoted by his "America First" policies would help the world, his protectionist tone since coming to power has been raising concerns in countries like Indonesia.
Trump Says 'America First' to Benefit World in Davos Speech
Indonesia ran a trade surplus of $12.4 billion with the U.S. last year, a small decline from the $13 billion it notched up in 2016. That imbalance saw Southeast Asia's biggest economy earn the ire of the Trump administration, which in April added the country to a list of nations being probed for potential trade abuse.
But Indrawati said trade between the U.S. and Indonesia was of mutual benefit.
Market for U.S.
"It would be very useful for many countries in the world, because after all the U.S. is the largest economy in the world," Indrawati said. "It's in the interest of the United States to see Indonesia as the largest Southeast Asia economy because this is also a market for many of the U.S.'s products."
Indonesia is now in a much better position now to weather the impact of rising interest rates in the U.S. and elsewhere, Indrawati said. The policy normalization by the U.S. Federal Reserve is reminiscent of the taper tantrum in 2013 when its signal of stimulus withdrawal prompted an Indonesian sell-off, but Indrawati said the currency had remained stable last year despite increase in U.S. interest rates.
"We have a current account deficit which is below 2 percent but the growth rate is above 5 percent with a much better middle class," Indrawati said. "It's going to be a very good foundation for us to make sure that the stability on the fiscal side as well as the monetary side is going to create a better environment for us to grow further."
Second Stint
Indrawati, 55, returned for a second stint as the finance minister in July 2016 after serving the World Bank as a managing director. Having built a reputation as a technocrat and economic reformer when she first ran the ministry from 2005 to 2010, her return has been lauded by investors as adding impetus to Indonesia's economic credibility. More recently, speculation has mounted about a possible tilt at higher office.
Asked on Monday if she had been approached to run in the presidential elections due in 2019, Indrawati said she was focused on her current job and the reforms her ministry was undertaking.
"As the finance minister I am very fully committed to making sure that the Indonesian economy is going to be stronger and more stable for the good of the Indonesian people," Indrawati said.
(
Updates with Indrawati's comments in seventh paragraph.
)
Before it's here, it's on the Bloomberg Terminal.
LEARN MORE