These Bond Bulls Say They'll Have Last Laugh as U.S. Yields Soar
By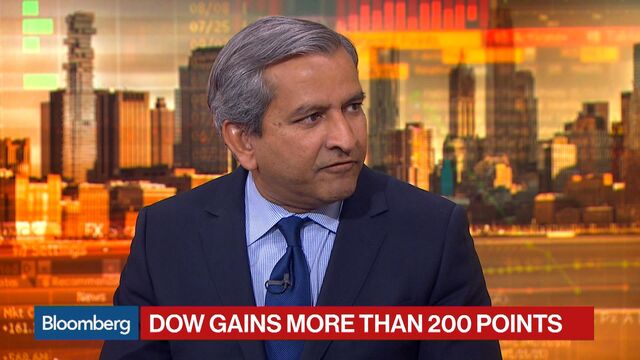 Bond bulls may be losing the battle to start 2018, but they're as confident as ever that they'll win the war.
To Aaron Kohli at BMO Capital Markets, Lacy Hunt at Hoisington Investment Management and Dimitri Delis at Piper Jaffray, it doesn't really matter that the 10-year Treasury yield jumped Monday to almost 2.73 percent, the highest level since April 2014. 
After all, nothing in their long-term outlook has changed: Inflation is still subdued, consumers have limited capacity to propel economic growth, and the world's aging population has plenty of appetite for fixed income.
"It's going to turn viciously, it's just a question of nailing the timing," said Kohli, an interest-rate strategist at BMO in New York. "The market will buy when they see other buyers. For now, it's just a momentum trade to us. It's a minor blip in the grand scheme of things."

Treasuries are extending their selloff at the start of a pivotal week of data and events. By week's end, traders will have absorbed President Donald Trump's State of the Union address, Janet Yellen's final meeting as Federal Reserve chair, details on the Treasury's plan to cover wider deficits, and the latest read on the U.S. job market.
All that comes against a backdrop of central banks curbing post-crisis stimulus efforts amid signs of buoyant economic growth worldwide.
If anything, the optimism surrounding the economic outlook is a source of confidence for bond bulls, who suspect that the good cheer may be close to fully baked in. If everything is going right and 10-year yields are still below 3 percent, what does that say about where they're headed? Hint: it may not be higher.
Not Quite
And yet, the bulls aren't quite ready to call the end of the pain. 
Delis said Monday that at 2.7 percent, he'd start adding incremental positions in 10-year Treasuries. Kohli took a small long position at 2.64 percent and closed it out with a loss. He's now waiting for the market to sell off further, targeting 2.74 percent and 2.8 percent before attempting another long bet. He's watching how speculators are turning more bearish on longer-term Treasuries as an indication that the rout has nearly run its course.
Hunt has been a bond bull for almost three decades, and the Wasatch-Hoisington U.S. Treasury Fund reflects that. It almost exclusively owns Treasuries maturing in more than 20 years. For all the talk of the bond rout, the 30-year yield was higher than the current 2.96 percent as recently as October. In 2017, it peaked at 3.21 percent.
"On the surface, the economy looks very strong," Hunt said. "But the structural supports to the economy -- the pylons -- are being eroded. They don't collapse immediately; it takes time, but this is where the vulnerability comes in."
Consumers' Burden
One of the bulls' preferred indicators lately is the declining U.S. savings rate. As a share of disposable income, it fell to 2.6 percent last quarter, the third-lowest on record. To Hunt and Delis, it signals that growth can't last because consumers, which make up about 70 percent of the economy, will have less purchasing power in the future.
Meanwhile, the Treasury this week may announce bigger note sales for the first time since 2009. While increased supply may push up yields in the short term, a rising U.S. debt load will only constrict growth, Kohli said. To avoid exploding deficits, the government will need to either raise taxes or trim spending.
For now, though, "you have everything that you could possibly expect to go perfect," Kohli said. "Successively, unemployment is lower. Inflation isn't going to the moon. You've got a tax cut you just put in. Europe is doing well, Asia is on fire."
"And the best you got is 2.72 percent," he said. "Think about what the yield level would be if we had these numbers in 2006. You just don't have a situation of robust broad economic growth."
Before it's here, it's on the Bloomberg Terminal.
LEARN MORE