Noble Group Reaches In-Principle Deal to Restructure Debt
Javier Blas, Jack Farchy and Jasmine Ng
Creditors will swap half of $3.5 billion in debt into equity

Current shareholders will get just 10% of the new company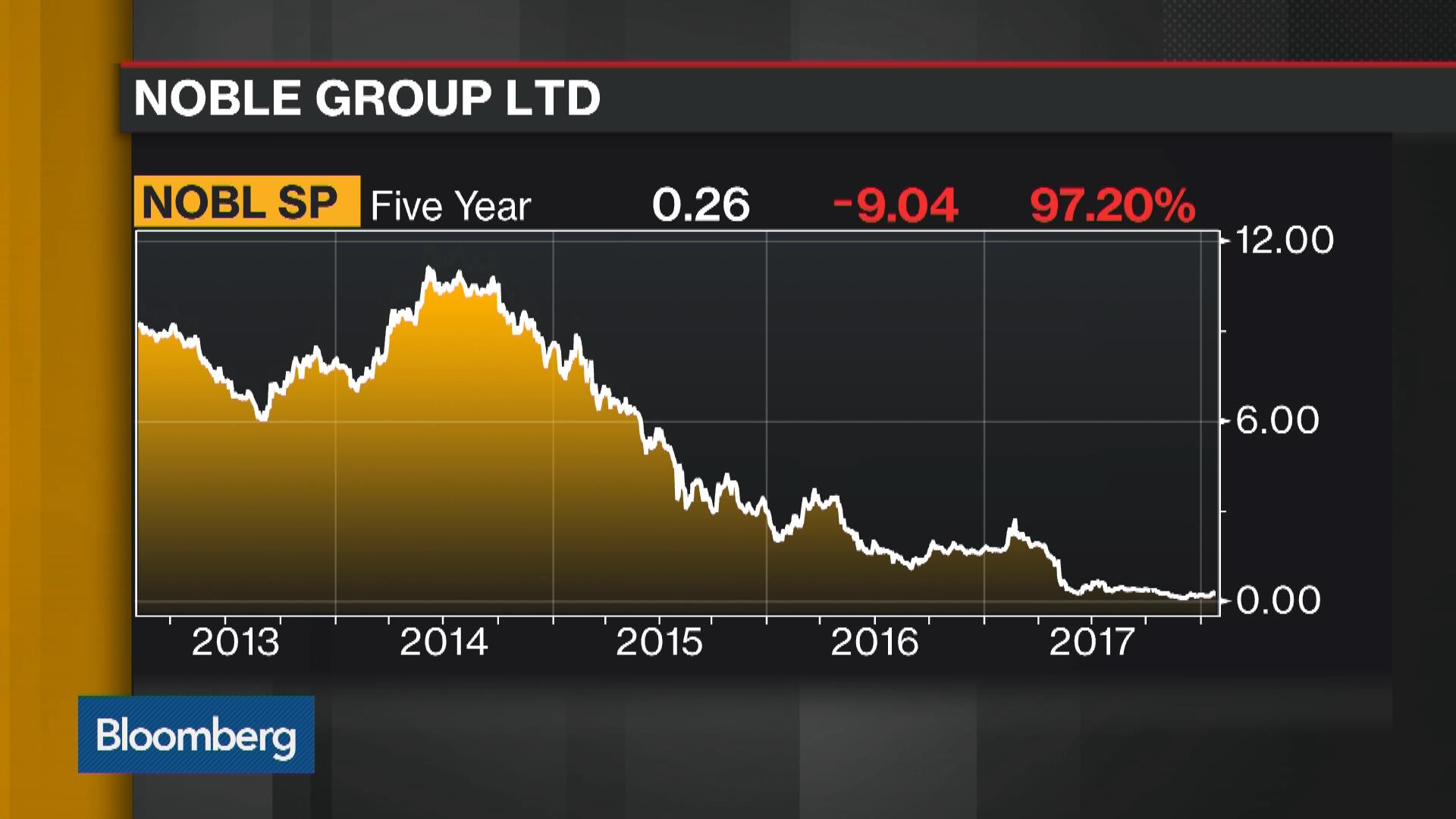 Noble Group Ltd. reached a deal to restructure $3.5 billion in debt, saving the troubled commodity trader from bankruptcy at the cost of handing control to creditors and all but wiping out current shareholders.
After a three-year crisis marked by massive losses, writedowns and controversial accounting, Noble management, bank creditors, and bondholders reached an in-principle agreement that will convert half of the debt -- roughly $1.7 billion -- into new equity, the company said on Monday.
"This agreement marks the beginning of the final phase of our restructuring, and the creation of a new Noble as a focused and appropriately financed group set to capitalize on the high-growth Asian commodities sector," Noble Chairman Paul Brough said in a statement.
The creditors, including hedge funds Varde Partners, Och-Ziff Capital Management LLC, Davidson Kempner Capital Management LLC and Taconic Capital Advisors, will control 70 percent of the company, while management obtains as much as 20 percent. Current shareholders, including founder Richard Elman and China Investment Corp., the country's sovereign wealth fund, will get just 10 percent.
Holders of Noble's perpetual bonds, which rank below other debt securities, will also lose almost all their capital, suffering a 96.5 percent loss in face value.

While saving the company from complete failure, the deal, which follows a the fire-sale of its oil and gas business in recent months in an effort to raise cash, will transform what was once a challenger to global trading giants such as Glencore Plc to a rump business focused on coal in Asia.
Elman, now 77, started his career as a teenage scrap-metal worker in England, and built his trading house by buying assets here and there. From a small office in Hong Kong supplying Chinese steelmakers with iron ore, manganese and chrome in 1986, Noble grew into a $10 billion Singapore-listed trading behemoth with an investment grade rating and access to unsecured capital. At its closing price today, Noble's equity was worth just $263 million. But that's just a mirage, as the debt-for-equity swap will dilute it even further.
"Richard Elman and CIC are footing most of the bill for the restructuring. This is the price for a bet on Noble's survival," said Jean-Francois Lambert, a consultant and former head of commodity trade finance at HSBC Holdings Plc.
Noble now needs to seek approval from all the parties involved in the deal, including shareholders, a process that could take as long as five months. The creditors that back the deal account for about a third of total debt.
Noble also needs the approval of holders of its perpetual bonds, who will suffer large losses. The company has proposed converting $400 million worth of perpetuals into up to $15 million in new securities. The perpetuals plunged today nearly 43 percent to a record low of 7.8 cents on the dollar.

The deal vindicates Iceberg Research, the anonymous research outfit whose critiques of Noble's accounting in early 2015 marked the start of a drawn-out crisis that has brought the Hong Kong-based company to the brink of collapse. Iceberg stated more than two years ago that the equity of Noble was largely worthless.
Iceberg shot back on the terms of the deal, pointing in a tweet that while "perpetual bondholders get wiped out" the "management that created Enron's Asia gets 20% of the company."
Noble has been negotiating the restructuring since November in a bid to save itself from looming insolvency. Brough spent the last few months shuttling from Hong Kong to Singapore and London, negotiating with banks and bondholders to restructure the company. Noble is headquartered in Hong Kong but listed in Singapore.
The new company -- in reality two entities where one is in charge of trading and another holds Noble's remaining assets -- will have debts split in three categories: $685 million in secured debt due in 4 1/2 years; another $270 million in senior secured debt due in seven years; and $700 million in an asset-backed bond due in 3 1/2 years. On top, creditors will receive preference shares worth $200 million.
Noble said that as part of the restructuring deal it would win access to a three-year, $700 million facility for trade finance -- the lifeline of any commodities trader -- supported by some of its creditors on what it called "competitive market terms." However, Noble said that it has yet to agree to the structure and terms of the loans.
The hedge funds that negotiated the deal with Noble will receive a payment of 2 percent of the face value of the debt they hold "in consideration for their work" on the restructuring, according to term sheet published by Noble. They will also receive a 5 percent fee for underwriting the new $700 million trade finance facility. 
Despite the financial pain, Brough, a veteran of multiple corporate crises in Asia, including the bankruptcy of Lehman Brothers in the region, claimed mission accomplished as he saved the company. "I have consistently stated my objective of avoiding any form of insolvency proceeding," Brough said.
Before it's here, it's on the Bloomberg Terminal.
LEARN MORE