business
Modi Adviser Says India Might Stick to Budget Deficit Roadmap
By and
Niti Aayog's Kumar says lower deficit will lead to a rate cut

Contradicts report advising pause in deficit curb plan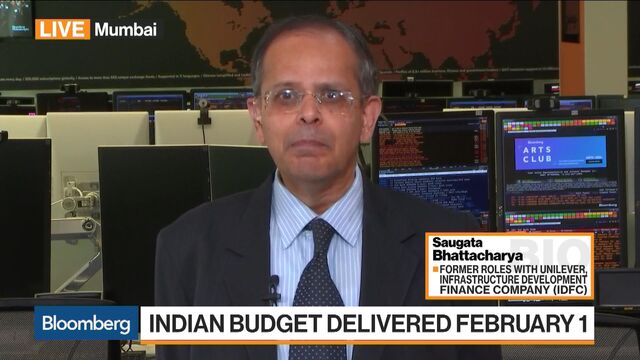 Prime Minister Narendra Modi is likely to stick to the path of fiscal consolidation when his government unveils the annual budget of Feb. 1, a top adviser to the prime minister said Monday.
"The budget may still pleasantly surprise you by sticking to the glide path of fiscal consolidation," Rajiv Kumar, vice chairman of government's think-tank Niti Aayog, said in an interview. "The government has tried very hard to raise revenues and mobilize extra resources."
The comment contradicts a report prepared by the finance minister's chief economic adviser Arvind Subramanian that advised the government not to set overly ambitious deficit target and said a pause cannot be ruled out a year before national elections. The Modi-led administration, which faces federal polls in 2019, has curbed the fiscal deficit in every budget since it assumed power nearly four years back.
Kumar said adhering to the targets will help government win a cut in interest rates when the Reserve Bank of India reviews monetary policy. India's economy is seen expanding at its slowest pace since Modi came to power in 2014.
"There is room for a rate cut on Feb. 7, especially if the finance minister sticks to his fiscal deficit stance. That would have shown to the Reserve Bank of India this government's huge commitment to fiscal consolidation," Kumar said.
India's budget deficit breached estimates in the first eight months of the year, stoking fears of a fiscal slippage. An improvement in latest month's collections from the new goods and services tax and sale of government's stake in state-run refiner Hindustan Petroleum Corp. has improved revenue outlook.
Before it's here, it's on the Bloomberg Terminal.
LEARN MORE