politics
Divisions in Italy's Ruling Party Resurface Before Election
By
Ex-premier accused of leaving party critics off election list

Candidates include Premier Gentiloni, Finance Minister Padoan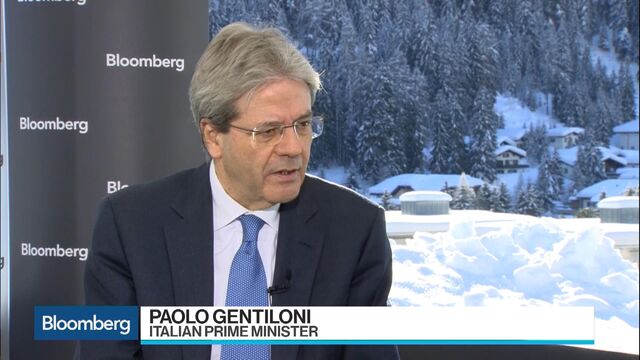 Divisions inside Italy's ruling Democratic Party resurfaced just over a month before the general election, with dissidents accusing ex-premier Matteo Renzi of purging candidates who are not loyal to him.
After late-night wrangling over the weekend, Renzi published an election list including Prime Minister Paolo Gentiloni, Finance Minister Pier Carlo Padoan and Interior Minister Marco Minniti. Critics said representatives of minority factions within the center-left party had been left off.
"Almost exclusively, the criterion of loyalty has prevailed rather than competence or candidates' opinions on the country's problems," PD senator Nicola Latorre, who did not make the list, said in an interview with newspaper Corriere della Sera published Monday. 
The Democratic Party is trailing the anti-establishment Five Star Movement in opinion polls, while a center-right coalition backed by ex-premier Silvio Berlusconi is on track to eclipse both parties to become the biggest group in a divided parliament.
For Renzi, packing the party with loyalists is not just a question of asserting his authority. It will also give him more room for maneuver in post-vote coalition-building, which may see a new alliance with Berlusconi's center-right Forza Italia party.
"We've fielded the strongest team," Renzi said in a Facebook post on Sunday. "We've got winning and convincing ideas."
Renzi was the dominant figure in Italian politics with an ambitious reform agenda until December 2016 when he was forced to resign after losing a constitutional referendum. Staying on as party leader, he's struggled to stop his party's decline and infighting, while Gentiloni has emerged as a more conciliatory figure better suited to potential coalition building after the vote.
Economic Development Minister Carlo Calenda, who is not seeking election and is not a PD member, tweeted: "What is the point in not fielding people who are serious and qualified?"
Before it's here, it's on the Bloomberg Terminal.
LEARN MORE