It's Getting Hard for S&P 500 to Elude Bond Market Violence
By
The 10-year Treasury yield tops 2.7% as stock market sells off

Strategas cuts REITs to underperform on interest rates risk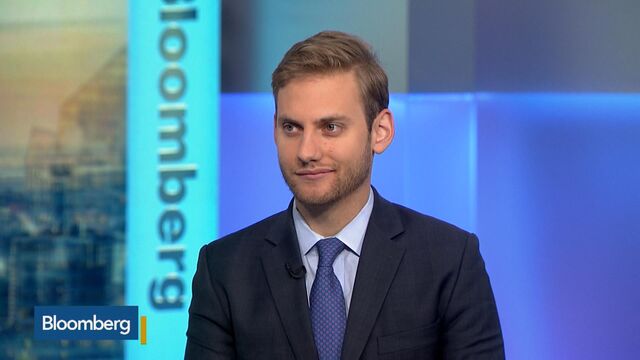 A subplot that has gone largely unnoticed in this year's relentless stock rally is playing out in public Monday.
It's the steady hammering in companies with the highest dividends, a trend that before today had done little to slow the advance in the S&P 500 and Dow average. That resistance wavered Monday as drops in real-estate, utility and telecom shares proved too strong for the market to shake off.
While the decline is barely a blip amid the best start for equities since 1987, it highlights tensions that many analysts see as the main threat to risk assets in coming months. Namely, will rising Treasury rates, viewed by bulls as a sign of economic vigor, become a valuation threat to equities that finally slows the torrid pace of price appreciation?
The jump in 10-year Treasury yields to 2.7 percent, a level unseen since 2014, was enough to prompt at Strategas Research Partners to cut rate-sensitive REITs stocks to underweight. Investors must plan for the yield to spike to 3 percent, said Evercore ISI's Rich Ross.
"Can stocks maintain their strength with higher yields? So far the answer has been yes, but that will get more difficult as we continue to see higher yields," said Peter Tchir, the head of macro strategy at Academy Securities Inc. "Dividend stocks have lagged this year and could be the weak link in the market."

Industry groups that pay the highest dividends -- telecoms, utilities and property companies -- have been the sectors most sensitive to interest-rate increases. They were the worst performers in the S&P 500 last year and led the index lower today, each falling at least 0.7 percent as of 2:46 p.m. in New York.
To be sure, more than rate anxiety was at work in Monday's decline, in which the S&P 500 dropped as much as 0.6 percent and 163 points were lopped off the Dow at its worst level. Apple Inc. lost 2.1 percent on concern about iPhone demand, while energy shares fell along with oil as the dollar strengthened.
Monday's retreat follows four straight up weeks for U.S. equities, a surge prompted by the strongest round of earnings upgrades since around 2012, a pick-up in economic growth and optimism over tax cuts. While it's far too early to say rising yields doom share prices, concern that the equity market could be poised for a breather is getting louder.
"Rates moving higher is a symptom of the sentiment in the market shifting to where they are coming to the realization that quantitative easing is on the way out," said Marty Mitchell, an independent rates strategist and formerly head government bond trader at Stifel Nicolaus & Co. "It was QE and the suppression of rates and the search for yield that took risk assets higher. The reversal of those things should at some point take those risk asset valuations lower."
For years after the financial crisis, the gap between the income generated from holding equities relative to government securities bolstered the case for stocks to climb to records. Rising yields make it harder for the U.S. equities to keep climbing at their current pace. At about 1.8 percent, the dividend yield on the S&P 500 is lower than the 2.1 percent on the 2-year Treasuries, the gap unseen since 2008. Add to that investors' concern about stretched equity valuations and the stocks' longest overbought streak in a generation.

More clarity may come this week. The Fed will release its latest policy decision, in Janet Yellen's final meeting as chair before handing off to Jerome Powell, while the Treasury will announces quarterly refunding plans.
"We are entering a new era in the U.S. with where the 10-year is headed," said Michael Antonelli, an institutional equity sales trader and managing director at Robert W. Baird & Co. "Once rates start to rise precipitously, that's a problem for the stock market."If yields keep rising at this pace, the broader equity market could be in trouble."
— With assistance by Liz McCormick, and Brian Chappatta
Before it's here, it's on the Bloomberg Terminal.
LEARN MORE