politics
Ireland to Hold Referendum on Liberalizing Abortion Laws
By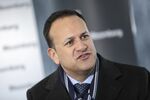 Ireland will hold a vote on liberalizing some of the Western Europe's tightest abortion rules within months.
The vote to repeal the eighth amendment of the country's constitution, which essentially equates the life of a pregnant woman with that of the unborn, and give parliament power to legislate for abortion will be held in late May or early June.
Should the referendum be accepted, abortion up to 12 weeks may become legal, Health Minister Simon Harris said in an interview with broadcaster RTE on Tuesday.
"Abortion is a reality for Irish women," Harris said, adding he wants to make the procedure"safe, legal and rare" in Ireland. "We can trust women, we can trust doctors."
Successive governments, fearing a backlash, have avoided introducing laws to fasten down the meaning of a 1992 Supreme Court ruling granting women the right to an abortion when the mother's life is at risk. The case of Savita Halappanavar, who died in 2012 of septicemia after doctors decided not to carry out a termination, reignited the battle over abortion, among the most divisive issues in an increasingly secular society.
The government will publish the wording for the referendum in early March, Harris said. He said he'd like the vote to be held by end of May "if at all possible."
"This issue doesn't get easier as time goes on," he said.
(
Updates with health minister's comments from second paragraph.
)
Before it's here, it's on the Bloomberg Terminal.
LEARN MORE