markets
Dollar's Bounce Means Time to Sell for Global Growth Optimists
By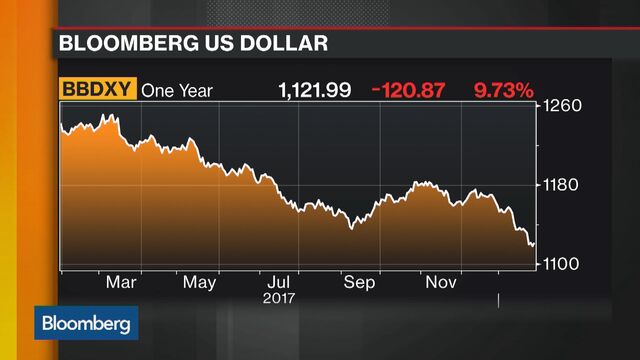 The dollar's up against all of its major peers right now, and that's a good opportunity to sell, according to some Wall Street forecasters.
Spurred higher by an advance in Treasury yields, the Bloomberg Dollar Spot index rose 0.5 percent Monday, putting it on track for its biggest one-day increase in three months. But that gain will probably fizzle out because accelerating global growth will continue to boost other nations' currencies relative to the greenback, according to UniCredit, JPMorgan Chase & Co. and Morgan Stanley.
Despite Monday's bounce, the dollar remains weaker against 16 of its major counterparts over the past month and the Bloomberg index tracking the currency has tumbled more than 12 percent from its January 2017 high. The extended slide in the dollar has been driven in part by improving economic growth in Europe, Japan and elsewhere, and comes even as the Federal Reserve has been tightening U.S. monetary policy.

"We're going to remain in this dollar bear market on a multi-quarter horizon," said Vasileios Gkionakis, head of FX strategy research at UniCredit in London. Monday's dollar climb is driven by profit-taking after several weeks of dollar declines, he said.
The bank said in a report Monday that it had raised its year-end forecast for euro-dollar to $1.32 from an earlier prediction of $1.25. The pair was at $1.2353 as of 11:58 a.m. in New York.
Robust Growth
"Global growth remaining robust should keep USD on a bearish trend," Morgan Stanley strategists including Hans Redeker wrote in a note. "It looks increasingly likely that our forecast of $1.33 by end-2019 may be reached earlier than expected," he said, referring to the euro-dollar rate.
The U.S. currency edged higher Monday as the yield on the benchmark 10-year Treasury note topped 2.7 percent for the first time since 2014. But some analysts say any currency gains will be short-lived, given the broader dynamics weighing on the greenback.
Hedge funds and money managers have boosted net bearish positions on the dollar for four consecutive weeks, according data from the Commodity Futures Trading Commission through last Tuesday. Short positions outnumbered bullish bets by 131,702 last week, the most since mid-December.
The U.S. currency is being depressed by disappointing purchasing manager index data, political risks in Washington, and speculation about potential policy changes from the Bank of Japan and European Central Bank, according to JPMorgan strategists including Paul Meggyesi and Daniel Hui. In a note published Friday, the bank added a recommendation to sell the greenback against the Swiss franc, adding to its other short-dollar strategies.
"Bearish momentum is likely to stay intact for the dollar" and a call by U.S. President Donald Trump for a stronger dollar "is an unlikely catalyst for a turnaround," the JPMorgan strategists wrote. "There are no foreseeable positive Washington idiosyncratic developments in the coming several weeks" and "economic and policy momentum continue to favor the rest-of-world versus the U.S.," they wrote.
Before it's here, it's on the Bloomberg Terminal.
LEARN MORE