politics
EU Must Prove It's Open for Business After Brexit, U.K. Says
By
Trade Secretary Liam Fox says Brexit deal is key test for bloc

China trade presents major opportunities for Britain, Fox says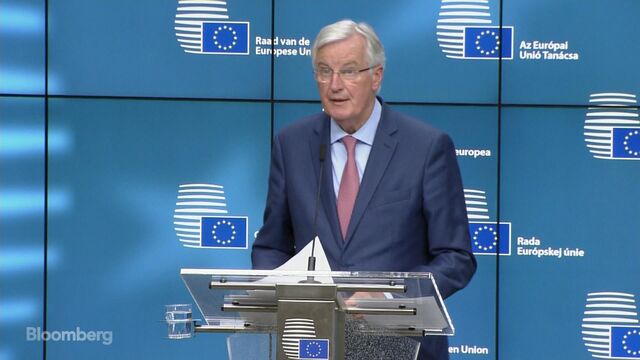 The European Union risks missing out on international trade unless it shows it's open for business by giving Britain a good deal on Brexit, a senior U.K. minister said.
International Trade Secretary Liam Fox said in an interview in London that investors and officials around the world are waiting for signs that the remaining 27 EU countries will still be competitive after the pro-free market U.K. leaves.
"The rest of the world is looking to see what is going to happen," he said. "If there are barriers and impediments to trade and investment in Europe that don't exist today, that makes Europe itself less attractive to international investors."
Fox's comments come as Prime Minister Theresa May prepares to lead a U.K. delegation to China as part of her efforts to increase trade after Brexit. Negotiations on the future U.K.-EU trading terms are due to begin in March but May says she'll definitely take the country out of the bloc's single market and customs union.
Investors are "wondering what the EU-27 will be like without British influence," Fox said. "So a clear signal has to go out to global investors that not just Britain is open for business but that Europe remains open for business."
China Opportunities
Fox was speaking in Bloomberg's London headquarters, as he discussed preparations for a U.K.-organized "festival of innovation" in Hong Kong later this year. On a recent trip, he discussed expanding trade with the Chinese government, which told him the U.K's resources of "creativity and innovation" made it an ideal potential partner, he said.
In a decade's time, "right across Asia-Pacific you'll have a greater British engagement than you have today," he said, citing a 25 percent jump in U.K. exports to China last year.
"By 2030, China will have 220 cities of more than a million people," Fox said. "The whole of Europe will have 35. I think it does give you an idea of the scale that we're talking about in terms of where growth is coming and where the economic opportunities will lie."
Before it's here, it's on the Bloomberg Terminal.
LEARN MORE