business
Death at Man United Star's House Highlights Plight of Immigrants in Chile
By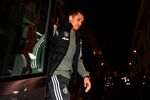 The death of an immigrant worker building a house for Manchester United star Alexis Sanchez in Santiago, Chile has highlighted the plight of immigrants in South America's wealthiest nation.
Sergio Hurtado Ponce died after falling 10 meters on the building site in the upmarket neighborhood of Lo Curro when a cargo lift failed, according to the investigative website Ciper. He wasn't wearing a safety harness or a hard hat.
For more on tensions surrounding immigration in Chile, click here
Hurtado was one of hundreds of thousands of immigrants who have poured into Chile over the past few years from countries such as Peru, Haiti, Colombia and more recently, Venezuela. Many, such as Hurtado from Colombia, have found jobs working illegally on building sites or in agriculture, while living in overcrowded tenements. It is a problem that is only set to get worse as the numbers increase.

Sanchez signed a four-and-a-half year contract with Manchester United this month that is worth around £600,000 a week, once a £20 million signing on fee, bonuses and image rights are factored in. Immigrant workers on his house in Chile were earning as little as 15,000 pesos ($25) a day, according to Ciper.
Contacted by Ciper, Sanchez's representative said the house was still the property of the builders and that the Manchester United star has yet to pay for it.
Before it's here, it's on the Bloomberg Terminal.
LEARN MORE